The Magento reporting extensions are a powerful plugin that can help eCommerce businesses of all sizes strive for revenue growth. By tracking website traffic, monitoring sales performance, and analyzing customer behavior, retailers can gain valuable insights to optimize efficiency, reduce waste, and respond to market changes.
To take advantage of these benefits and achieve your eCommerce goals, start leveraging the power of these data analytics platforms today! Check out our list of 9 reporting addons for Magento that can offer performance indicators to capture eCommerce success.
Magento 2 Reports Extension

No license fee, but services compulsory starting from $19

Time-specific reports creation

Magento 2 Advanced Reports & Cloud BI Platform

Magento 2 store connection

25+ pre-built Magento reports

Magento Advanced Reports Extension

Magento CE, EE, B2B, Cloud, and Adobe Commerce: 2.2.x–2.4.x.

Data personalization and visualization

Magento 2 Inventory Report

Magento CE, EE: 2.3.x–2.4.x

Magento 2 Advanced Reporting Extension

Magento CE, EE: 2.3.*–2.4.6

Visual data and team collaboration

Magento 2 Google Tag Manager Extension (GTM)

Magento CE, EE, B2B, Cloud 2.0–2.4.6

Customer journey enhancement

Product performance analysis

Advanced Reports for Magento 2

Magento CE, EE, Cloud: 2.4.6, 2.4.5-p2, 2.4.4-p3, 2.3.7-p4

Drag-and-drop report creation

Magento 2 Reporting Extension

Subscription fee from $22.99 per month

Magento CE, EE: 2.4.3–2.4.5

Instant performance evaluation
What is Magento reporting extension?
Magento reporting is a crucial tool for eCommerce businesses to gain timely and accurate business intelligence into their sales, inventory, and other essential metrics. At its core, Magento reporting is a way of tracking and analyzing data to help businesses make informed decisions to drive growth and increase profitability.
As an eCommerce business owner, you should keep an eye on essential metrics for improved performance and profitability. Let's learn some of the reports in Magento 2.
Inventory report: Keep track of stock levels and optimize inventory management to minimize costs, improve efficiency, and ensure product availability
Sales report: Analyze store performance, such as revenue, orders, and average order value, to gain pricing and product insights
Customer report: Gain insights into customer demographics and purchasing habits to personalize marketing and customer service efforts
Product performance report: Get detailed information on products viewed and ordered, bestsellers, and stock levels to enable evidence-based decisions
Marketing report: Assess marketing effectiveness with information on cart status, search terms, newsletter and email campaigns
Reviews report: Monitor customer reviews to improve offerings and identify popular products for adjusting marketing strategies
Shipping report: Track shipping performance, cost, and delivery time with detailed information on shipping activities and carriers to optimize shipping processes
Other reports include tax, orders, invoiced, refunds, and coupons.
Using these tools, businesses can generate detailed analytics to gain a better understanding of their eCommerce store's performance, which can assist them in making necessary changes to enhance the overall efficiency.
Benefits of using Magento reporting extensions
In eCommerce, tracking metrics and statistics hold significant importance. Here are some key benefits of using these addons to optimize operations and improve the bottom line:
Gain insights into key performance metrics like inventory, sales, customers to identify potential areas for cost savings
Get detailed reports on sales performance, customer behaviors, customer rates, geographic sales, and conversion channels
Analyze customer behavior trends and patterns to personalize their shopping experiences
Evaluate sales performance and measure the effectiveness of advertising campaigns to optimize strategies for better results
Monitor inventory and supply chain for better inventory management
Add new features not available in the core platform for enhanced functionality
Key features of Magento reporting
Magento is a highly acclaimed eCommerce platform that provides businesses with a comprehensive suite of reporting features. This helps businesses create reports, and analyze insights to make informed decisions.
Provide pre-built reports to check your key performance indicators on sales, orders, and inventory
Display information in a way that fits your preferences with customizable dashboards
Filter data by date range, product, customer, and order status for deeper analysis
Centralize data across all of your stores in one place and share with other team members or stakeholders
Export business records in various formats, such as CSV or Excel for thorough analysis
Integrate with 3rd-party reporting tools for comprehensive performance measurement
Top 9 Magento reporting extensions
1. Magento 2 Reports Extension by MageSolution
MageSolution's advanced addon is essential for businesses with multiple locations. The extension offers 8 reporting options such as sales by country, product, customer group, and coupon code, with order status filtering. It lets users view performance by one or multiple stores, making data analysis easier.
Key features:
Filter by store location: Choose data sources for flexible store selection to allocate resources, such as personnel and inventory, more effectively to maximize performance and profitability
Create time-specific reports: Build performance indicators for specific periods allowing businesses to trace expenses and revenue over specific periods for better budget management
Compatibility:
Magento CE: 2.0–2.4
Pricing:
No license fee; but services fees are compulsory, starting from $19.
2. Magento 2 Advanced Reports & Cloud BI Platform by Mipler
The performance tracking extension by Mipler offers over 25 pre-built reports, such as sales overview, order details, customer profiles, product performance, and more. Because it can deliver real-time data anywhere globally, it's highly suggested for companies with several locations or remote staff.
Key features:
Direct store connection: Connect Magento 2 database for real-time access to dashboards with a 2-minute setup
File access: Customize Magento 2 or create new reports using the advanced modeling layer to access any available information in the database
Compatibility:
Support all Magento versions
Pricing:
Four plans with data modeling, filtration, exporting, and live chat support, and other features:

Basic Plan ($19 per month)
Optimal Plan ($29 per month)
Advanced Plan ($49 per month)
Enterprise Plan (custom quote)

Optimal and Advanced plans offer 50+ built-in reports and custom dashboards
Advanced plan includes extra features like data access API, ACL, and more sources and connectors
Enterprise plan offers custom features and data modeling for large or complex businesses
3. Magento Advanced Reports Extension by Mageplaza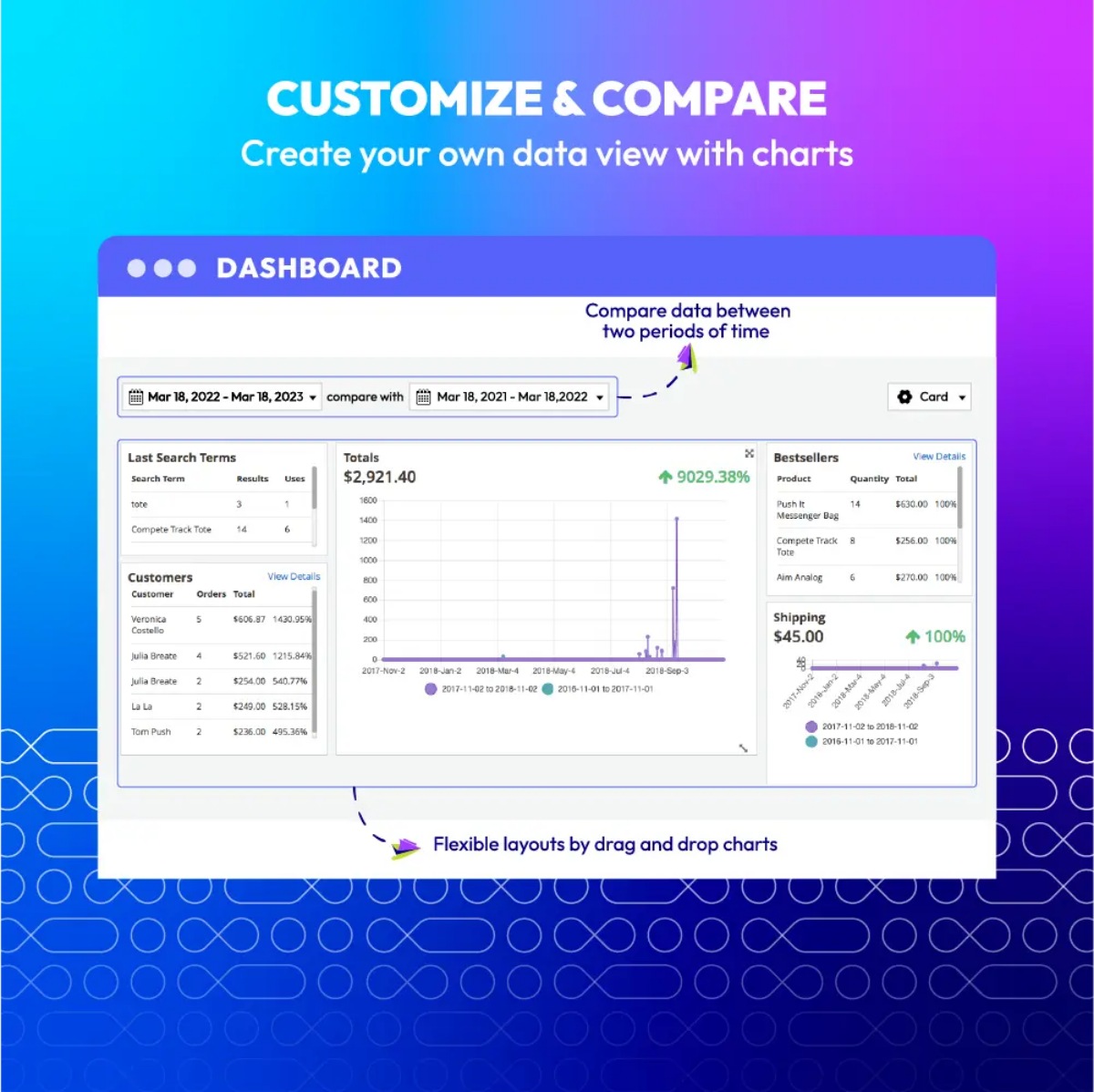 The plugin from Mageplaza offers an efficient and customizable solution for generating analytics. Online merchants can customize many types of pre-built reports such as sales, customer, product, and order reports, which are exportable in CSV, Excel, and PDF.
Key features:
Customize and contrast: Create reports between two different time ranges for easy comparison and contrast of data
Visualize data: Present data in line charts, giving users a clear and concise understanding of their data
Rearrange visualization order: Drag and drop report cards and arrange figure sections, providing users with greater control and flexibility
Compatibility:
Magento CE, EE, B2B, Cloud, and Adobe Commerce: 2.2.x–2.4.x
Price:
Three pricing packages:
Standard ($99 first year): Includes basic features such as sales by location, repeat customer rate, and conversion funnel
Professional ($199 first year): Popular package with added features such as stock vs sold, customer group, abandoned carts reports, and a filter function for the view details grid
Ultimate ($299 first year): Includes all Professional features plus 8 more report types to create and save multiple dashboard views, like sales by category, product attribute, and payment
All 3 packages come with a 60-day refund policy, no questions asked.
4. Magento 2 Inventory Report by BSS
The top-rated inventory reporting for Magento 2 by BSS provides a detailed inventory report to monitor stock fluctuations and track inventory movements. It includes order creation, deletion, credit memos, product import, and quantity changes on the edit page.
Key features:
Auto-track product changes: Enable automatic inventory tracking and generate full inventory documentation
User segmentation for inventory optimization: Categorize users (admin, guest, and customer) to identify which group affects inventory moments the most and develop a strategy accordingly
View order and memo: Quicker access to order and credit memo details, reducing time on product checks
Compatibility:
Magento CE, EE: 2.3.x–2.4.x
Price:
Enterprise Edition: $249 with discounts for additional users
Community Edition: fixed price of $99
Free installation valid for 2 weeks after purchase, $50 fee afterward
5. Magento 2 Advanced Reporting Extension by Mirasvit
Get advanced reporting features and data visualization tools with performance insights extension by Mirasvit. Its user-friendly dashboard enables quickly getting the most out of data and handling high-volume data sets. The extension also helps retailers productively analyze their store's performance, create custom reports, and understand their customer base.
Key features:
Tailor dashboard: Generate job-specific dashboards to support cross-functional teams and project success
View data trends: Provide necessary information with more dashboard insights to follow performance and progress
Collaborate with visual data: Share dashboards securely and view data in 4 informative formats for better collaboration
Compatibility:
Magento CE, EE: 2.3.x–2.4.6
Pricing:
Start from $169 with lifetime access to source code and an additional $99 for updates and support prolongation
6. Magento 2 Google Tag Manager Extension (GTM) by WeltPixel
Google Tag Manager (GTM) Integration for Magento 2 developed by WeltPixel excels in real-time customer behavior tracking. The tool's reports track various product metrics such as sales, impressions, clicks, cart additions, checkout process, transactions, custom options and more.
Key features:
Support for Google AdWords: Drive targeted traffic to the online store and grow the customer base by assessing the impact of advertising campaigns
Enhance the customer journey: Study customer interaction from product view to transaction to optimize your online store and enhance their experience
Analyze product performance: Observe significant metrics for online store product performance, such as product impressions and clicks by position, add-to-cart rate, etc. to gain insights into customer behaviors and improve offerings
Compatibility:
Magento CE, EE, B2B, Cloud: 2.0–2.4.6
Pricing:
Free version for Open Source (Community)
Paid version for more features starts at $249, with 12 months of support for all options
7. Advanced Reports for Magento 2 by Amasty
The sales reporting extension offers a range of sales activity analysis options, including analysis by country, category, and customer group. With the support of 5 additional inventory insights for product-related statistics, merchants can study sales trends to better understand the customer base and increase customer loyalty. 
Key features: 
Design data visualizations: Grant easy access to critical data, empowering users to make strategic moves without advanced technical expertise

Analyze sales data with a full-scope view:

Compare sales reports

and other data over multiple periods to project future business trends  
Compatibility: 
Magento CE, EE, Cloud: 2.4.6, 2.4.5-p2, 2.4.4-p3, 2.3.7-p4
Pricing: 
All 3 pricing packages include 20+ pre-made reports, dashboard for key statistics, rule-based report creation and multi-currency support:

Advanced Reports with 3 editions: 

Community ($299)

Enterprise ($599)

Magento Cloud ($899)

Advanced Reports Pro ($499): Added the ability to create unique assessments leveraging pre-designed templates, smart filtering and sorting, and out-of-stock forecasting

Advanced Reports Premium ($569): 

Includes everything in the Advanced Reports Pro

Added the ability to add multiple custom columns to reports, calculate and combine data, and use 5 different chart types 

The price mentioned includes 12 months of support or updates, extendable for a fee or cancellable anytime
8. Magento 2 Report Extension by AheadWorks
23 reports in AheadWorks' advanced module cover sales, traffic, conversion, abandoned carts, customer sales records, and product performance metrics. Retailers can use these reports to compare data, segment customers, identify best-selling products to generate practical strategies.
Key features:
Customize reports: Reduce time creating reports and focus on growing your business
Drill down for insights: Gain deeper insights to identify areas of improvement by drilling down into specific data points
Evaluate performance instantly: Dynamic widgets provide critical business data for rapid performance evaluation
Compatibility
Magento CE, EE: 2.4.3–2.4.5
Pricing
License fee: $382 for Open Source, $722 for Commerce
Subscription fee: start from $22.99 per month
9. Magento POS Reporting by Magestore
Magento POS Reporting by Magestore presents an array of features to maximize operational outcomes. This is an advanced function of their Magento POS solution that allows businesses to generate daily performance reports and improve store operations.
Magestore's POS reporting is a perfect choice for businesses seeking innovative features to optimize daily operations for driving value and growth.
Key features:
Review daily store metrics: Track daily revenue statistics to identify areas for improvement and take appropriate steps to maximize outputs
Support handling stock movements: Avoid overstocking, meet customer demand, and optimize cash flow and cost savings with real-time inventory data
Record employee accomplishments: Help retailers understand the staff performance to provide timely training and development opportunities based on employee evaluations
Improve product performance: Provide product sales data for trend identification and informed decision-making
Sale analysis: Allow to export sales data (daily, weekly, monthly) for in-depth analysis
Compatibility:
Magento 2.0.x
Pricing:
As POS reporting is a part of the Magestore's POS solution, you can see the POS pricing below to understand more:
Custom quote depends on the business scale at the time of purchase, needs, objectives, and retail system setup costs
One-time payment with full solution ownership
One–year warranty and 90–day refund policy
Retailers who seek to improve their business operations can rely on Magento reporting to get detailed data and insights on inventory, sales, products, and customers. Moreover, integrating reporting addons can help them further improve their performance.
For optimal results, retailers should choose a Magento reporting extension that seamlessly integrates with their existing systems, fits their budget and technical expertise, and offers customizable and user-friendly reports.
Are you looking for a reporting module that fits your budget and exceeds your expectations? Let our expert team help you find the perfect solution to streamline your operations and get the best result. Book a free talk with us!