Open source business software keeps your costs down and stays on top of your online business with a fair budget. In addition, they are generally more transparent and more secure than proprietary alternatives. So, this article suggests the 51 best open source business software to run a small business and take it to the next level in 2022. They belong to 11 essential business management functions.
Overall, the 11 best open source software for each function are:
Read on to find out!
What is open source software?
Open source software is non-proprietary software available to users with its source code. So you can change or enhance it according to your unique needs. Open source code originated in 1983 with the belief that programmers should have access to the software to modify it to understand, learn, and improve it. Therefore, the first open source license was called the GNU Public License. Today, open source software (OSS) includes a digital license of its original rights to limit and control the scope of software distribution.
Benefits of open source software to small businesses
Open source software authors don't consider their creations to be proprietary. Instead, they release the software under a license that allows its code to be copied, learned, changed, and shared. Therefore, it brings the following benefits to small and medium enterprises.
Affordable price
According to TechRepublic, more than 30% of a retailer's IT budget is spent on software licensing, but they often waste 50% on redundant or unnecessary software. In addition, time-consuming software development delays are a factor in wasted $85 billion. Meanwhile, open source small business software is affordable or even free.
Better technology control
You can easily change the parts for any purpose, even in a way that the competitors haven't thought of yet. Open source software helps retailers get the right software solution for maximum productivity, cost-effectiveness, business consistency, and reach their full potential.
Reliable security
Contrary to security concerns, open source software is extremely safe. It's continuously tested and modified by thousands of developers. Programmers can work on open source software without asking permission from the original author and repair, update, and upgrade open source software faster than proprietary software.
Top 51 open source business software
If you're looking to expand your retail store online, you'll need an eCommerce software package for online product display, shopping cart, payment processing, checkout, order fulfillment, sales, customers, and inventory management. Here are the 5 best open source business software for eCommerce in 2022:
OpenCart is designed for small and medium-sized retailers to manage orders, provide multiple payment gateways, and manage multiple stores from one platform. In addition, it allows customers to leave product reviews and ratings. Most importantly, OpenCart offers free lifetime community support through an international network of partners. In addition to the native features, OpenCart offers extensions that meet the unique needs of each website.
POS Open by Magestore is the best open source software specially built for small businesses with one warehouse. It's packed full of features to serve your store operations, connecting online to offline, order management, and omnichannel inventory. However, you may have more than one warehouse and want an offshore dedicated development team to launch your online store in the shortest time. In that case, you can consider upgrading to the Magento POS Commerce — a paid version for growing business and unlimited access to advanced features.
PrestaShop has native features for product management, payments, orders, shipping, and manufacturer management. In addition, PrestaShop offers many add-on modules to add new features and customize your store. PrestaShop is an easy-to-use platform. It offers translation, product display, localization, marketing, tax services, and export products to eBay. However, you'll need to pay a service fee for support and training.
WooCommerce is the most used WordPress eCommerce plugin with over 3 million active installs. In addition, you'll benefit from the many plugins available from WooThemes and third-party vendor extensions on the marketplace.
Zen Cart is an eCommerce platform forked from osCommerce. It's geared towards advanced users and developers. Outstanding features of Zen Cart include gift certificates, coupons, and multiple payment options.
Office suites
Most people only use a fraction of the available features of Microsoft Office. So using an open source alternative would make good financial sense. In addition, they're compatible with Microsoft Office file formats such as .xls and .doc.
Calligra Suite is a graphic art platform and open source office suite from KDE. It can run on many devices such as smartphones, tablet computers, and desktop PCs. In addition, Calligra is compatible with many small business operating systems such as Linux, macOS, Windows, and FreeBSD.
LibreOffice was forked from OpenOffice in 2010. It supports the Open Document file type and popular office file types like Microsoft Office by default. You can use it on Linux, macOS, and Windows.
NeoOffice is another fork of OpenOffice based on Java. This application is specific to macOS, and you can run OpenOffice natively on Mac OS X. In addition, it can securely edit documents in your Dropbox or iCloud Drive.
OpenOffice is one of the first and best comprehensive open source office suites to replace Microsoft small business software. It was rebranded in 2012 and is compatible with Linux, macOS, and Windows.
ERP
Enterprise resource planning (ERP) software can be costly and very complex. Here are three open source ERP software systems that can replace Microsoft small business software, or even Microsoft Dynamics and SAP.
ADempiere is a popular and comprehensive open source ERP package compatible with Linux, macOS, Windows, and Unix. It provides production management, materials management, project management, accounting, finance, human resources, and maintenance management features.
Odoo is a full suite of applications, including production resource management, purchasing management, sales management, recruitment, accounting, and finance. Odoo's free version helps you track sales easily, providing detailed invoices and reports. In addition, the paid version costs $25—30 per user per month with additional benefits such as unlimited support, bug fixes, and automatic updates. Odoo is compatible with both Windows and Linux.
OFBiz is an open source Java-based ERP package from the Apache Foundation. It includes accounting, manufacturing resource management, supply chain management, CRM, and small business asset management functions.
CRM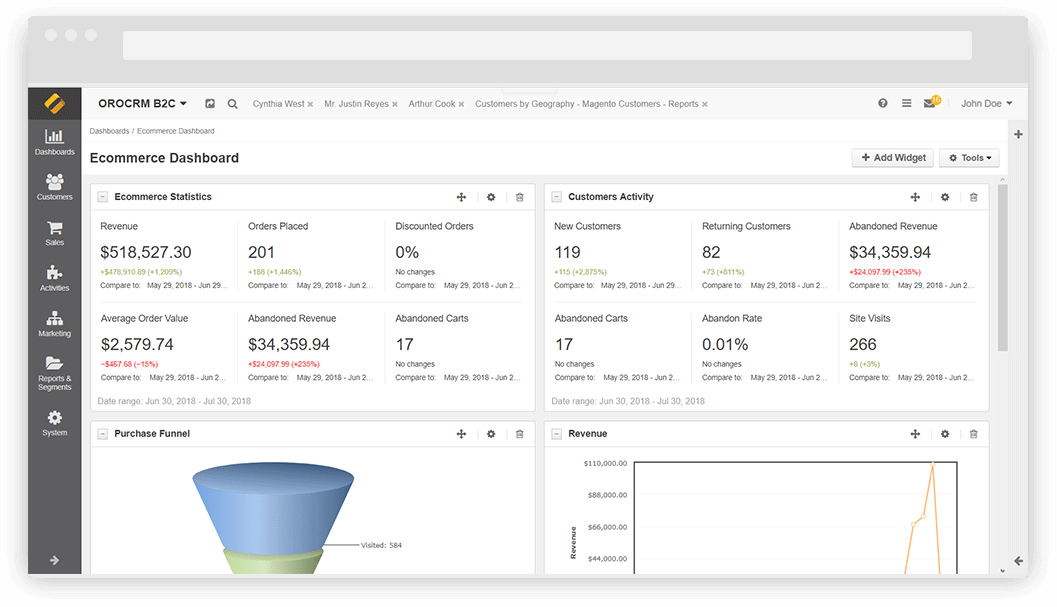 If you want to manage customer information but can't invest an enormous budget in service providers like Salesforce or Oracle, here are three open source CRM software options to replace:
WSDesk, the free ELEX WordPress HelpDesk & Customer Ticketing System Plugin, offers ticket generation and management, email piping, unlimited support agents, unlimited support tickets, personalized email replies, detailed ticket records, document attachments to tickets, and more. It is a simple and user-friendly WordPress Support Ticket System Plugin that will assist you in resolving your customer issues easily. All of your user complaints are converted into actionable support tickets by this plugin, making your work easier and faster. It is lightweight and AJAX-based, therefore it will not slow down your website's loading time. 
This free small business management software includes automating customer support, sales, and marketing campaigns. You can use SugarCRM on Linux, macOS, Windows, and UNIX.
Fat Free CRM is a CRM platform written on Ruby on Rails. It features lead and campaign management, opportunity tracking, team collaboration, and contact lists.
It's an alternative to SugarCRM with many features similar to the paid version of SugarCRM. What's more, it offers Joomla integration.
OroCRM is open source CRM software with an intuitive and easy-to-use interface. It provides marketing tools for omnichannel businesses and prioritizes personalized customer experiences.
Email management
If you need to reach customers or subscribers, you'll probably need one of the following open source software to manage your email list:
phpList can migrate to your own Virtual Private Server (VPS) as your list grows to scale with your retailer. In addition, it offers extensible amenities like MailChimp or AWeber exclusive options.
If you need to manage several email accounts of different providers in one place, eM Client is for you. In addition, it allows running a standalone email client instead of a browser-based solution.
Thunderbird is an email manager from Mozilla. It allows managing multiple accounts with typical applications such as autoresponders, signatures, and import of address books from text file exports or other email clients.
Claws Mail has easy configuration and is extensible with plugins. The most popular plugins by users include the calendar tool, anti-spam, and archive engine.
Geary is the perfect choice if you're after simplicity. It sends and receives plain text messages or text messages, so it excels in speed. In addition, Geary is compatible with Yahoo!, Gmail, and many other popular email services.
Accounting
The following open source options are partial replacements for commercial packages such as QuickBooks, Sage, or Quicken:
GNUCash is a powerful accounting application for small businesses. It allows you to track bank accounts, income, send invoices, and create visual reports applying professional accounting principles. GnuCash is compatible with Linux, macOS, and Windows.
TurboCASH has more than 100,000 users, mainly small and medium businesses. It integrates directly with open source eCommerce platforms like Zen Cart and OSCommerce. You can use TurboCASH to post transactions to accounts on a public ledger and generate financial statements. In addition, TurboCASH supports 80 tax regimes, including those of the U.K. and U.S. It's compatible with Windows.
xTuple is a free business management software for medium and larger companies. It's compatible with Linux, macOS and Windows, and BSD. It includes full functionality for sales, inventory, distribution, CRM, and accounting (banking reconciliation, financial statements, general ledger, accounts receivable, and payable).
OpenBravo doesn't just stop at accounting. It's an enterprise resource planning system that helps you integrate store operations from sales, inventory to invoicing and quotes.
Project management
Project management tools help you collaborate with your team, assign tasks, and track progress toward goals and tasks.
Taiga has a beautiful and minimalistic interface. If you want a tool to monitor your website design and development project, Taiga will be the best choice.
OpenProject is a cloud-based hosting solution. In free community edition, it provides a fully-featured open source business management software. Team members can achieve desired goals and track deadlines for optimal productivity. It's available in 30 languages ​​, so you can seamlessly connect your teams worldwide.
Amazon Cloud Services power MyCollab. Thus, it offers powerful collaboration tools protected with SSL encryption and is compatible with popular and small business operating systems.
GanttProject performs simple project management tasks quickly and efficiently. However, the feature set of this tool is quite limited for complex projects.
Time tracking
Here is the top 5 free open source software for time tracking:
Kimai is a free and open source time tracking software. It's effortless to use. You can manage projects for each client by budget, number of orders, tasks for each project, and current status. From there, you can calculate wages automatically based on monthly, weekly, and hourly rates. You can run Kimai in your browser and on many platforms and mobile devices with unlimited users. Kimai is developed using the latest web frameworks and technologies such as Webpack, Symfony 4, PHP7, Bootstrap, Doctrine, and Flex.
eHour is the best open source software for time tracker as it has a web-based interface or install a hosted version and use it on your infrastructure. It helps you analyze the time your employees spend on different projects. eHour is available in multiple languages ​​and supports multiple currencies so that retailers can deploy it to different locations globally. In addition, you can create multiple projects per client and assign multiple people to a project.
Clockify launched in 2017 and is a free time tracking software suitable for many company sizes. It's also an advanced timesheet management tool for you to calculate project-related work hours and track employee engagement in real time. Clockify stands out from the competition because it allows adding unlimited users. You can install the app on either a smartphone, tablet, or desktop and sync data. Clockify uses Business Intelligence technology for opportunity analysis and performance improvement management. In addition, you can integrate it with other tools such as project management software and other accounting solutions.
Redmine is a free open source software and web-based time tracking and project management tool. It's incredibly user-friendly and visually presents timesheets, managing multiple projects, tasks, and deadlines with Gantt charts and calendars. In addition, Redmine is very flexible software and allows you to decentralize access control based on roles. Redmine is written using the Ruby on Rails framework, supports 34 different languages, and provides a REST API.
Content management
When creating a website, you must curate the content and power it. Many world-famous retailers use open source cross-platform CMS as follows:
The Economist, The White House, and Examiner.com all use Drupal. Its outstanding features include system administration, menu management, RSS feeds, user account registration and maintenance, and page layout customization. In addition, Drupal is the most secure and user-friendly CMS option of the choices, so many governments use it.
WordPress started as a blogging system and has grown into a popular CMS in the eCommerce world with over 50,000 theme plugins, widgets, and plugins. It's the most famous platform and accounts for about 20% of the top 10 million websites on the internet.
Joomla is second only to WordPress in terms of users and deployment. It's used by institutions such as Citibank and Harvard University. In addition, Joomla allows instant UI editing. You don't need to access the admin panel to make simple changes. It's the right choice for decentralized multi-member sites because of its excellent access control features.
OpenCms is open source software based on Java. It provides a browser-based workspace and a WYSIWYG editor for managing workflows, users, and assets. Apart from us, OpenCms is one of the few CMSs that offers a native and complex version of the content. It ensures that you can keep track of what changes were made to your content, who made them, and when.
Django is built on Python. It gives high speed to use when taking on many web administration tasks. Plus, you can create sitemaps instantly with Django.
Visualization
Visualization tools help you visualize and share data for your clients and your team.
Draw.io is a simple diagramming tool. It allows you to save diagrams directly to Google Drive, OneDrive, Dropbox, GitHub, and optionally a storage device.
Charted is a free open source software. It can automatically generate simple line and stacked column charts from Google spreadsheets or .csv files.
Facebook and Twitter use HighCharts. It provides JavaScript-based interactive charts on your website.
Datawrapper allows you to create data visualizations right on your mobile device. It supports different types of tables, charts, and maps.
XMind is a mind mapping tool. It's a cloud-based application compatible with Windows, Mac, and iOS sync. After creating the map, you can export it to Office or PDF.
TiddlyMap is a plugin for Google Chrome. It helps you to draw browser-based mind maps.
Wireframe.cc has a simple interface. You can drag and click online. In addition, Wireframe.cc has many templates available to design websites for many platforms.
Photo and video editing
The following open source tools help you edit photos and videos for your website, Youtube, and other platforms.
GIMP can edit and manage multi-layered image documents. Therefore, GIMP is the best open source software for business with image editor features. It's an essential tool for many graphic designers and photographers.
Blender is a powerful 3D generator. It can animate, model, track motion, and edit videos.
ImageMagick can convert images and can write and read about 200 file formats. You can use ImageMagick to convert, display, and edit vector image files.
Most people use Inkscape to create and edit SVGs. In addition, it can import, convert, and create many other image formats.
digiKam helps you edit and publish photos directly to social networks. In addition, it allows you to manage large image libraries.
Is it possible to run a business entirely on free open source software? Indeed, with the best open source business software in this article. Open source software can provide free options for small businesses that don't budget for large enterprise applications. Even if you want to stick with closed source software, your retailer can still take advantage of the many compelling benefits of open source small business software: it's available free to download and set up without effort. However, technical support isn't available for the free version of open source software. Still, you can hire a third-party agency or choose to upgrade to the commercial version at a low cost for genuine live support and get frequent updates.
Optimize your business operations with our complete POS for Magento
Sell online or in your physical stores seamlessly with real-time data synchronization.
Sell everywhere from one platform with desktop or iPad devices, even without internet connection.
All data stay safely on your Magento website, and your POS doesn't have to rely on third-party servers to work.
EXPLORE MAGESTORE POS