Visual is one of the best ways to showcase a fashion product. In apparel retail, how you present your items will have a big influence on your customer's buying decisions. In this article, we'll show you the best practices of visual fashion merchandising that can help you attract customers passing your store and prompt them to purchase.
Here're the 8 visual merchandising tips for fashion you can apply to your business:
Create a display strategy
Interactive displays
Checkout displays
Window displays
Cross merchandising
Utilize promotions to encourage customers
Improve the personalized product discovery
Consider the data
Let's take a look at each of them.
What is fashion merchandising?
Fashion merchandising is the process of planning and executing activities like purchasing, manufacturing, distributing, and selling fashion products. It covers the marketing strategies, display design, and competitive pricing to bring the products to customers at the right place, right time, and right quantity.
Here're the functions of fashion and apparel merchandising:
Predict fashion trends that determine manufacturing and production;
Purchasing materials to make the products;
Forecast inventory to avoid stockout or understocking;
Determining retail prices;
Bring the products to market in an enticing manner, online or offline;
Create promotions and advertisements to encourage purchases.
The process of merchandising covers most of the business side of fashion retail. To ensure good fashion merchandising, you should consider multiple factors, such as brand image, merchandise selection, product promotion, customer point of view, etc.
Different types of merchandise in fashion retail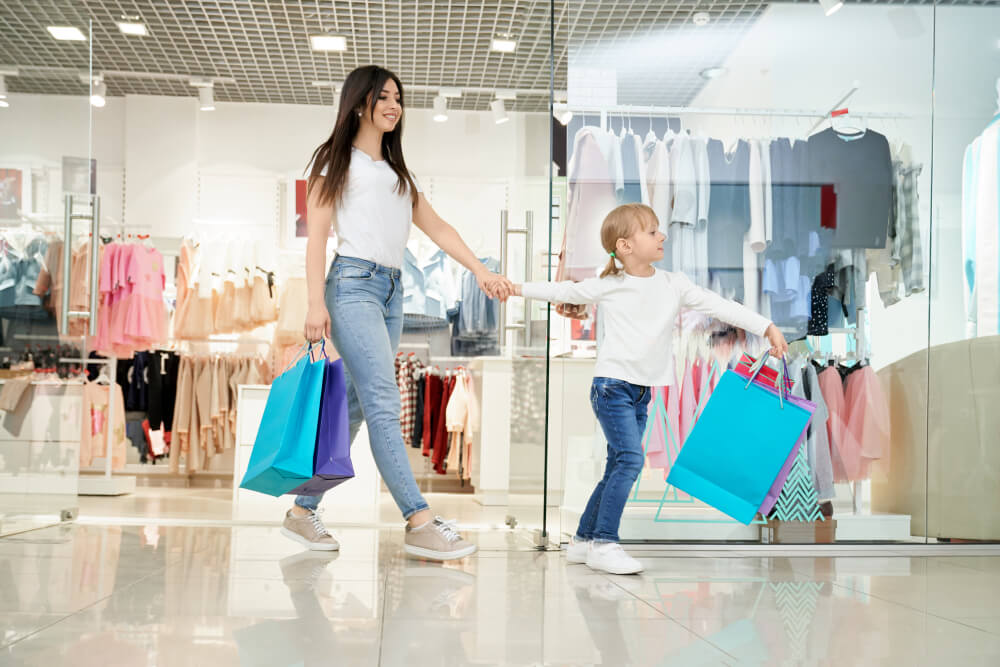 Above is the fashion merchandising definition. Like other retail industries, fashion retail has 5 main categories of merchandise: product, visual, retail, digital, and omnichannel. Let's explore each of them.
Product merchandising
Product merchandising involves all promotional and marketing activities aimed to sell a product or service. The promotions can happen online or offline depending on the kind of product and which channels your target customers are present. For example, you have a new clothing collection for summer and create an advertising campaign with emails, coupons, banners, etc. All these activities are product merchandising.
Visual merchandising
Visual merchandising is the display method used to make the products stand out to capture customers' attention. It can be product placement, lighting, color theme, the spacing between the products, or the creative layout and design of the store.
For example, visual fashion merchandising can be produced online by using images and videos to explain the quality of a product. In a physical store, you can use banners, arts, and floor patterns as a part of visual merchandising in fashion retail.
Retail merchandising
Retail merchandising refers to the process of attracting shoppers to your stores by using marketing and promotional activities. The products are arranged in physical locations like malls, events, or brick-and-mortar stores.
For example, arranging an interactive event at a mall to promote a product is a type of retail merchandising.
Digital merchandising
Digital merchandising is the activities used to sell a product online. Another name for it is online merchandising or eCommerce. Since more people are shopping online thanks to its convenience, you should prepare a consistent digital merchandising strategy to sell online. Some common approaches include digital product displays on website and marketplace, digital ads, email marketing initiatives, etc.
Omnichannel merchandising
Omnichannel merchandising is a practice to offer a seamless and consistent shopping experience to customers across all channels. No matter where a customer is buying, either online or in store, they're in their omnichannel journey, and you should serve them as how they want to shop. Providing different options for customers to shop their way is a plus for convenience, such as click-and-collect, O2O, etc.
For instance, if a customer searches for a product but leaves without making an order, they'll be retargeted later through email or online advertisements with the relevant products. This helps remind them of their incompleted order and increases the chance of selling.
Visual fashion merchandising principles
There are 3 main principles for visual fashion merchandising:
1. The right merchandise and quantity
Knowing your customers is the foremost requirement. Learn who your target customers are, their styles, preferences, and their preferred method to discover new products. You'll also need to know about their immediate goal to offer the right items. Shoppers are more likely to shop for fashion products they need now rather than products they may need in the future.
Since fashion trends and customer demand are changing at a fast pace, this valuable data will help you plan properly what kind of merchandise and the quantity you need to stock up. That's how you keep your stock updated and have the flexibility to adjust accordingly to your fashion product life cycles. Since inventory is the most important element in fashion and apparel merchandising, having an efficient retail management system will help you keep track of your stock transfer and know when to replenish your stock.
Forecasting accurate merchandise and quantity will help you stock up the right inventory level, create a customized shopping experience for customers and increase their satisfaction.
2. The right time and place
The second principle is promoting your products at the right time and place. To do this, you must determine how your customers shop. For example, do they wait for a discount to purchase bulk items or is there any time during the year that they tend to shop more? Knowing when your customers are most likely to spend money will inform you of the promotion strategy to maximize sales opportunities.
Offering the products at the right time and place will make it convenient for shoppers to make an order, and create a higher chance of converting visitors into customers. You can also boost impulse purchases by showing customers the exact products they're looking for timely. Furthermore, back-order is another efficient way to fulfill more orders even when you don't have products available in the warehouse.
3. The right price
You should balance profit and value for your pricing and pay attention to this factor constantly. People are getting more price-sensitive, requesting the value they receive must be worth their payment. Therefore, you should plan your price margin based on the item's perceived value.
Having a reasonable price margin can improve sales. A too-high margin can make your products expensive and unattractive while a too-low margin may not worth your effort in selling. Hence, you should figure out the suitable amount of charge that customers are willing to pay and still maximize your profit. Consider your competition and brand proposition when determining your price tag. A fast-fashion store will have different price segments from a luxury brand. All these factors are important to optimize sales and create an effective retail fashion merchandising process.
Merchandising best practices for fashion stores
Here're the top practices of visual fashion merchandising you can apply to your retail merchandising process:
1. Create a display strategy
Visual display is vital for apparel stores, as it gets the first impression from customers. Therefore, you should think strategically about your product displays. It applies to both physical and online stores. For brick-and-mortar shops, it is how you arrange the items on the shelves into categories, which items to put next to each other, the quantity for each type of product, and many more.
Similarly, in your website or marketplace, you should showcase your products logically and attractively with filter options like best sellers, new arrivals, and the ability to sort them out based on price, size, color, etc. You can choose to highlight your trendy items on the homepage for on-site interactions, and utilize the AI recommendation engine to suggest relevant items that a customer may like to create a personalized experience for them.
2. Interactive displays
One of the best visual fashion merchandising tactics is an interactive display. It is a popular solution to engage buyers who may walk across your products by giving people an idea of what your product looks and feels like before they decide to buy.
To set up interactive displays, arrange your displays so that customers can easily envision your items in multiple ways. For example, you can use mannequins to wear your products or let your sales staff dress in similar clothing to what you're selling. In this way, customers can be easily attracted by the clothes and want to try them on, creating a sales opportunity.
3. Checkout displays
Checkout display is a powerful tool to encourage impulse buying. It can be effective if you want to upsell small items like bracelets and hair accessories that match well with the clothes you sell. You can set up a small sector at the customer-facing display screen to show relevant items that customers can quickly pick up and add to their cart. A proper checkout display will drive more impulse purchases and add up to your revenue with only a little effort.
4. Window displays
Window display is where customers have the first impression of your store and products when they pass your store. A proper window display serves as a good approach to visual merchandising for fashion that can lead more guests into your store. It is a fantastic opportunity to promote your offers and special sales of your items.
Some factors to note are color scheme and lighting which can help create the right ambiance and vibe for your window display. Make sure your window display also reflects your brand story and personality.
5. Cross merchandising
Cross-merchandising is beneficial and can boost sales tremendously if done correctly. It is the art of fashion visual merchandising where you place complementary items next to each other to generate cross-sale chances. A typical example for boutiques is placing shoes next to bags, jewelry purses next to jewelry, etc. There are many ways of cross-merchandising, you just need to look at your products and think about what customers will need together when they buy this item.
6. Utilize promotions to encourage customers
Prices are crucial when customers make their buying decision. By utilizing promotions, you can give customers a little incentive to buy at a better price. Sales and discounts are the reason that drives people to your shop and increases web traffic. All you need to do is choose the right type of promotion.
Discounts affect your brand equity and margin. If you're having too frequent sales, customers will perceive your brand as low-valued and low-quality. To keep your culture and brand positioning, you must ensure your promotions are offered at the right occasion and with the right amount of discount. For example, you can have birthday gifts, seasonal special sales for some selected items, or when customers purchased value exceeds a certain amount.
7. Improve the personalized product discovery
Most shoppers prefer a brand that allows them a personalized shopping experience. Therefore, if you can provide them with customized products and features in their discovery process, you're one step ahead of your competitors. There are many ideas to implement this approach, such as product recommendations, product layout pages, and search results.
Personalization usually attracts potential customers to look for more items and purchase more merchandise. You can also use the product recommendation feature to get shoppers' attention to relevant items aligning with their preferences.
8. Consider the data
Consumer demand is the center of retail fashion merchandising. To understand your customers, you need the right data to help you make accurate merchandise decisions for customers. You can implement a POS solution for boutique stores to acquire data, analyze customers' behaviors, and assist you in predicting fashion trends.
For example, you can organize and tag your products based on their attributes and customer segments, so that you can track their sales performance and discover insights. You'll get an alert if a shirt is running low on stock, and check whether the items with a particular design are also selling out. It allows you to study deeper into the patterns, anticipate your customers' demands, and forecast future trends. Data analytics also supports you with proper planning for inventory, manufacturing, and distribution.
We hope the above 8 tips for visual fashion merchandising have given you the essential knowledge on how to merchandise a boutique. Promoting and displaying the right merchandise at the right time, right place, and right price will help you meet customers' demand and satisfaction. To ensure proper fashion merchandising, keep in mind the important factors including brand image, customer's viewpoint, merchandise selection, product promotion, and many more.
1. What are the differences between fashion merchandising and fashion marketing?
The difference in scope is what sets fashion merchandising and fashion marketing apart. Fashion merchandising is broad and involves the entire process of fashion design, trend forecasting, purchasing, and sales, including setting prices and inventory management.
On the other hand, fashion marketing focuses primarily on the advertising side of fashion, where you identify target customers and figure out how to best promote the products to them.
2. What do retail merchandisers do?
Merchandisers are in charge of all activities from the time a fashion product is delivered to the store to the time a shopper picks it up off the shelf. Their job is to monitor product appearance and supply in multiple locations including both online and offline stores.
3. What is the merchandising cycle?
There are 3 steps in a merchandising cycle: purchasing merchandise from a vendor, selling the merchandise to customers, and collecting payment.