Store window displays are a form of offline advertisement that allows stores to show off their products in terms of goods and creativity. The way a store designs its window display communicates to potential consumers how much time and effort they put into their business and the kind of service customers will receive. It is a chance for a store to promote its brand based on what a customer sees while passing. To catch people's attention at first glance is difficult, so designing a store window becomes a headache for many store owners. This article will introduce you to 15 retail window display ideas to drive in-store traffic in 2022.
15 retail window display ideas
Understand your target audience
Any business needs to define its target customer when making a sale plan for any product. A window display in a retail store is also a part of the sale and marketing plan. Therefore, creating excellent window displays requires an understanding of how to appeal to your target consumer. It involves figuring out what customers want and what is important to them, then designing window displays to meet those goals. The point of sale system will help you find out all those details based on all the past and sync data.
Understand your location
The location of your shop will significantly affect the way you organize the window display. If you are a tiny retail store on a busy street with lots of other stores, you will approach your window displays differently than in a less walkable area. You can get away with employing smaller products and signage with details that are meant to enjoy up close when you have regular consumers walking in front of your store.
A deliberate subject will almost always work in your favor. It connects everything and captures the user's attention more quickly. Try sketching out some ideas using a pen and paper when coming up with a topic. Before you start building anything, make sure you have a clear concept for your store window display. For example, the demand for purchasing in clothing stores often increases in spring with many holidays and festivals, so you can try some spring window display ideas to organize your storefront display to attract customers.
Try to be creative, not to stereotype
People are usually attracted to new things. So try not to use something in common that other stores apply. You have to create something unique to catch people's attention from the first look. There is no harm in attempting something new; after all, no one knows your clients better than you, so consider what they want right now and let that inspire your display stands. Seasonal changes and public holidays are also fantastic opportunities to try something new and experiment with fresh display ideas.
Try to deliver a story, not just to showcase
Stories are significantly more effective in grabbing and holding people's attention, whether they have read, heard, or seen, as in this example. To put it another way, stories can stick with people. It applies to speeches, papers, and even storefront displays. Your displays should tell stories that grab shoppers' curiosity and entice them to come inside, rather than just displaying your products. If they are unable to visit right now, they can still remember your business and return at a later date. You can do this by deciding on a theme and then looking for stories that fit with that theme.
Create a focal point
Every storefront window display should include a focal point. This is the most important part of your display, and it's usually the main thing on exhibits, such as a product on a plinth or a floor-to-ceiling billboard with trending goods. Alternatively, a more imaginative, unexpected item might be used as the major focal point to draw attention to your products before directing it to them. Decide on a focal element for your store window display and start building your display around it. The small tip is to balance window displays with two-thirds decoration and one-third merchandise.
Place key items at eye level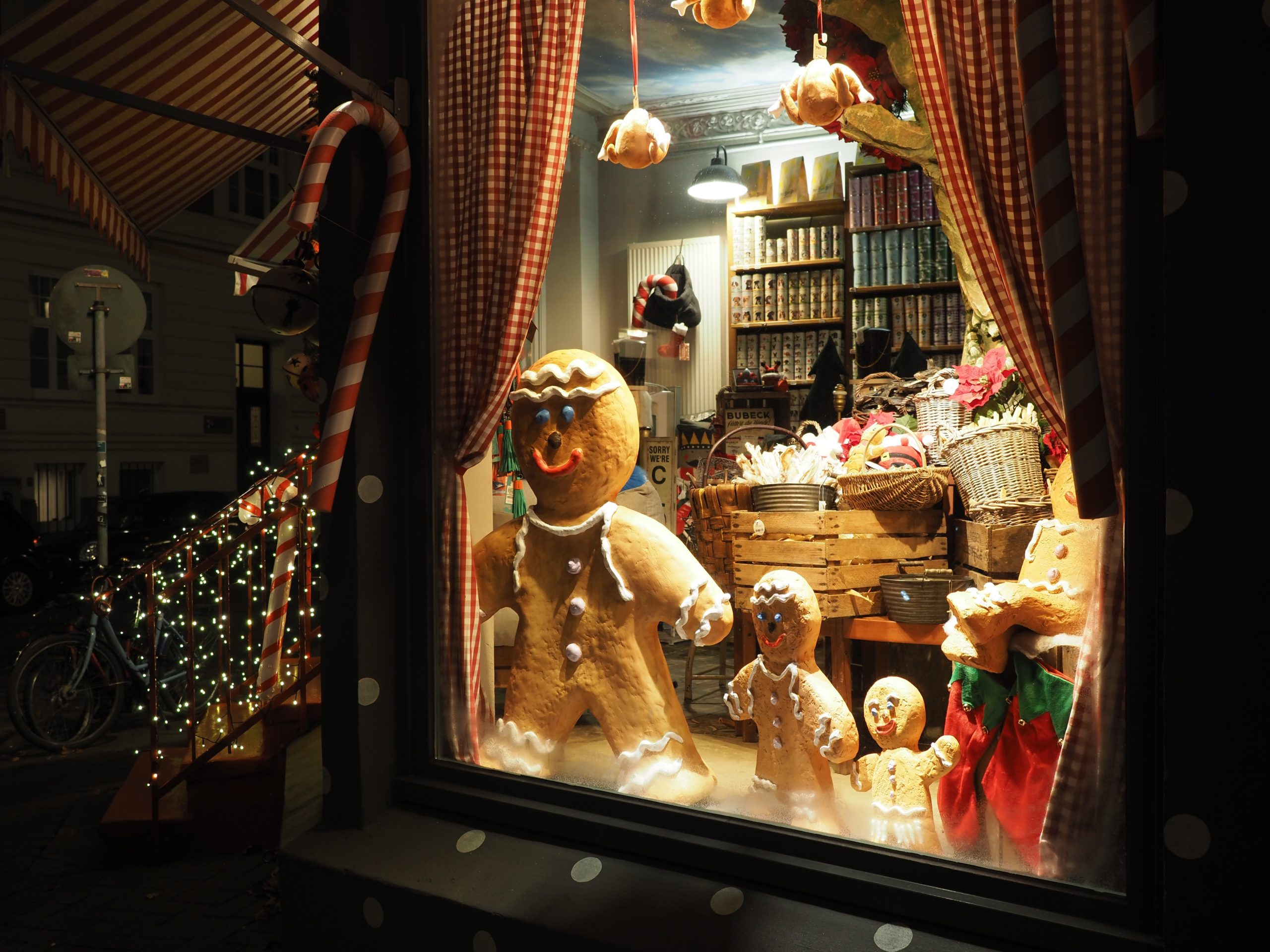 This is one of the important retail window advertising ideas. People need something attractive and outstanding to keep their eyes at the first moment. So the main focus of your store window display must be placed at people's eye level. It can be an accessory, an outfit, or a structure but it can attract people's first attention and bring people in your store. Besides, make sure that the items are big enough to catch people's eyes.
Stay balanced
You should think about the physical design of your retail storefront display to make sure it looks balanced and appealing. Instead of jumping all over the place, a balanced style will keep the customer's attention where you want it. An eye-catching window display should be lively, vibrant, interesting, and well-balanced. 
Try to make it simple
Making it simple but the focus is a really important small window display idea. Many people try to put as many products as possible in the window display but the result is not the same as the purpose. An effective window display does not mean displaying everything you sell. On the other hand, it means displaying products that you believe will draw people in and entice them to come into your shop to see what more you have to offer. Consider your window display to be a teaser rather than a complete product catalog. To pull viewers in, great ones use simple yet fascinating aesthetic components.
Renew your window displays regularly
Marketing strategy and plan are not always effective for a long time so it is normally created for a short period. Besides, the product focus of each retail shop will also be changed for different seasons. Therefore, the window displays should also be renewed regularly. Updating your window displays allows you to keep users engaged while marketing seasonally suitable products you want to highlight. The more relevant your marketing is, the better your chances of success, and renewing your displays regularly will help you maintain them.
Add text if possible
Having some text on your window, if it makes sense for the display, could assist market your items and stores. If you're having a sale, for example, including some promotional message is a smart move. You might also use text to highlight the features that distinguish your store.
Always look for inspiration
Designing effective and creative retail window displays is not a simple task. You need a lot of time to get some ideas. So try to always look out for inspiration. You can use social networks, or the internet to look for some existing ideas. Sometimes, you can also acquire ideas by walking through a nearby strip mall and paying attention to what you see while driving around town. This is great for seeing what local businesses are designing while browsing online allows you to discover what's hot in your industry.
Pay attention to the light system
The importance of the light in window displays can not be ignored. You're missing out on an opportunity to bring visitors in if they can't see your products or your store's interior well. It's fantastic if your store's space has excellent natural lighting. If it isn't, consider using softer lighting to allow people to see inside without being blinded.
Use technology to make informed decisions
Creativity should go along with the original target. The things you want to put on the display is the one you have to promote or the one that is in high demand. To get the exact analytics, you can use technology, specifically the POS system in your store to check. The reports from the point of sale system can let you know which items are your best-sellers, which items sell out quickest, and which are most likely to be in high demand. You can also see which items are frequently purchased together, which might help you figure out which products to pair together. From all that data, you can have better ideas on how to create your storefront display and apply all the above points to make the most effective retail window displays.
Take a photo of your window display
After all settings, you should go outside and look at your window display as a customer passes by to see how it is. Then you can try to take a picture of your display. The camera can catch features of the display that appear to be off when you are too close, as well as components that need to be repositioned or adjusted. 
Other things to know about window displays
What are the examples of window displays? 
There are many examples of creative window displays that successfully increase a store's image and sales. Here we can take one example of a retail window display in an American Apparel store in Japan.
It has vivid color blocking against a white background, but the shape printing on the glass makes it more intriguing.
What is an elevated retail window display? 
There are eight types of store window displays. They can be open, closed, or semi-closed displays, island or corner displays, elevated displays, shadowbox, and arcade displays. Each type has its features that fit each shop type and location. However, elevated window displays seem to be more popular. It is the type of storefront display located above ground level and can be open or closed.  
Are window displays effective? 
Yes, window displays are effective tools to increase your store's sales. They act as the first visual point of your store which is an essential factor to attract customers. Besides, it also helps in brand recognition as well as advertising specific products and services. The real data shows that window displays can convert everyone passing by into a customer.
In general, in this new retail world, where competition is fierce, you must find strategies to set yourself apart from your competitors. Retail window displays are one of the most powerful methods for driving in-store traffic and increasing sales if you organize them in the proper and creative ways, as suggested by all the retail window display ideas above.