Omnichannel Retail Guide Chapter 1
What is omnichannel retail?
Drown in the recent omnichannel retail trends, you must have found many posts about omnichannel definition. So, what is omnichannel exactly? What is the difference between omnichannel and multi-channel? Are you sure that you understand how the real omnichannel retail business works? This chapter will help you explore the transition of retail trends over decades and clearly explain the definition of omnichannel retail.
A shift from single-channel
to multi-channel retailing
Single-channel is the traditional retail model. It focuses on one sole channel sale based on the single-distribution system. The retailers own only brick-and-mortar stores (offline) or web-stores (online).
Initially, this model achieved a lot of accomplishment because focusing on a single channel might minimize all expenses as well as drive sales growth. Moreover, if a provider dominated a market for their product or service, a single-channel strategy could help them keep that control.
However, one channel sale encountered many limitations as the age of digital came and many more sale channels arose.
Customers expected a more convenient experience and used multiple channels as well as multiple devices and platforms.
As a result, a single-channel strategy is no longer enough to attract increasingly demanding customers. That put retailers under a pressure of reshaping their store management work as well as business models for fear of lagging behind in the sale-growth race.
At that moment, multi-channel arose as a new retailing approach that could take advantage of the digital age to satisfy customers with whatever channels they chose. This business model quickly dominated the retail industry and continuously developed.
A shift from multi-channel
to omnichannel retailing
Multi-channel retail is a business model born with the digital revolution.
Retailers adapting this strategy offer customers a choice of ways to purchase their products, via both online and offline channels. Therefore, it's more flexible and convenient for consumers to purchase goods or services, which helps dramatically boost sales.
Another advantage of this strategy is that it brings about 24-hour access to customers, which helps build brand loyalty. Retailers also benefit from multi-channel by improving analytics to understand consumer behaviors since building a personalized customer experience is a must in the digital age.
However, many questions had risen along with the expansion of multi-channel retail, including how to bring customers a seamless experience across channels and which could help smoothly operate the internal process.
As customers had become more demanding, fulfilling their expectations went beyond retailers' infrastructural development.
Creating a seamless experience over different channels, while at the same time ensuring the accuracy and efficiency, was almost impossible.
For example, retailers found it hard to manage purchases from various channels or struggled with order fulfillment and speedy delivery. Besides, customer service was also a big concern since retailers communicated with shoppers in multiple channels and became confused with data synchronization in separate systems.
Multi-channel adopting retailers also encountered problems related to the internal process. Supply chain must be the first and the most important matter to be mentioned.
More channels involved in the distribution system required more available warehouses with higher inventory accuracy, whereas multi-channel strategy lacked inventory visibility and efficient multi-warehouse management. That caused a supply-demand gap that was almost impossible to be closed without a centralized management system.
Furthermore, this business model also caused difficulties in measurement analysis when collecting data from separate channels, leading to an inefficient strategy.
As the retail landscape continued to change and multi-channel seemed to reach its limitation, the retail world moved forwards to a new phase called omnichannel retail model.
Omnichannel retail optimizes multiple sales channels while at the same time brings about a high level of integration among them.
What is Omnichannel Retail?
Omnichannel retail is a business model in which all existing channels become completely integrated to offer customers a seamless shopping experience.
This omnichannel retail strategy is empowered by centralized data management, which means that the distinctions among channels, both physical and online, are blurred.
As a result, customers can simultaneously use different channels in their shopping process, starting their search at a channel and finishing the purchase in another one. They are given chances to create their own preferable shopping routines, which seem to be more attractive to a new generation of consumers in the 21st century.
It's noteworthy that the omnichannel retail approach can be adopted simultaneously in sales channels, inventory management, and marketing strategy.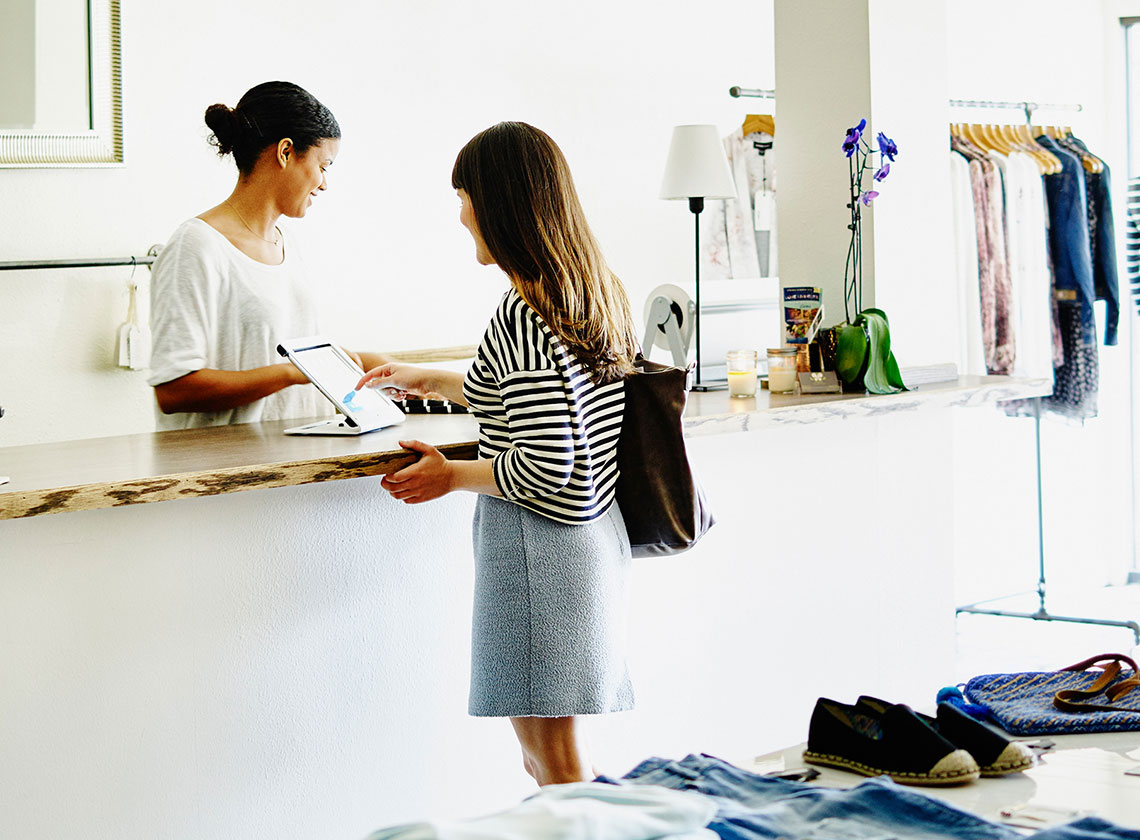 Omnichannel vs Multi-channel: Upgrade or Innovate?
Even though there's opinion saying that omnichannel seems to be an extension of multi-channel, the two strategies are very distinct and separate retail models.
Using multi-channels, retailers adopt as many channels as possible but manage them separately.
Meanwhile, omnichannel commerce provides businesses a wholly centralized data management towards a synchronization of existing channels, no matter if they employ a separate inventory allocation or a shared inventory strategy.
Therefore, omnichannel retailing brings shoppers a seamless shopping experience when blurring all boundaries among channels.
Besides, multi-channel strategy is launched for the sake of retailers, so that they can sell as many products as possible. Whereas, customer centricity is the main core of omnichannel retail.
It means that retailers must "think like customers think" to optimize customer experience. Omnichannel businesses target at long-term shoppers, which means that they focus more on improving customer profitability instead of only sales growth.
Needless to say, we are turning into a new world of the omnichannel retail culture featured with a new generation of omnishoppers and omniretailers.