Inventory movement report: Relieve warehouse management headaches
Managing inventory is never easy for any retailer, especially when your business expands in the number of sales channels, number of warehouses, or product catalog. They can encounter the difference between what's in the system and the actual one. Inventory discrepancies become a real headache if they don't know the reason and solution to correct them. In this case, the inventory movement report should be the first choice for merchants to look at.
This article explores how an inventory movement report relieves pains in figuring out warehouse issues.
Where can a stock movement come from?
Every day, hundreds or thousands of inventory activities may happen in a business. They create an increase or decrease in the quantity of products.
Let's explore eleven operations that can create a change of quantity in stock.
Deliver items ordered from both website and POS to customers 

Return items after customer's refund or exchange

Return items to suppliers

Adjust inventory 

Stocktaking
Delete items in the product catalog

Import product list including quantity as a master data for the first time using the system

Changes in the warehouse structure
Some frequently pain points from stock movement
To run a business efficiently, merchants nowadays need to utilize technology such as websites, POS system, inventory, or an ERP system. However, no system is perfect, and there's no guarantee that everything will run smoothly at all times. 
In particular, in inventory systems that record a lot of transactions every day, the differences between theories and real quantity can happen in any period. 
Human error or system issues are where the differences can come from. For example, your staff is unfamiliar with the system, so they record the wrong quantity when receiving items from the supplier. 
Your system upgrade can also result in conflicts and data differences.
Let's find out some inventory management pains that merchants can face: 
The system doesn't record a decrease in quantity although items have been shipped to customers or record an incorrect number.

The system doesn't record an increase in quantity although items have been returned to warehouses.

The quantity doesn't change after an inventory adjustment or transfer.

The order is not synchronized to the admin backend.
How does movement report benefit you?
At the end of the day or week, merchants will count their stock and compare it with data in the system. In the case they detect any differences, they'll question where the issues come from. It'll take time for them to check all transactions created in different places. For example, they have to go to the sales order list, purchase order list, and transfer list to track the increase and decrease of the items. It can make store owners burnt out if the discrepancies happen with a lot of SKUs.
If you don't find the issues and correct them, your customer can still order items that are out of stock or cannot order the items that are in stock. However, with inventory movement reports, you can detect issues at the level of SKU quickly and come up with a solution to correct inventory data.
This report gives you useful insights to keep a clear count of stock items in your store. You can see whether products in your store are up or down in a centralized place. Then you check who created the transactions, and figure out if it's a human or system error. If it comes from a staff's mistake, you can remind and train them. Besides, you can adjust your product quantity accordingly. If it's because of a system error, you should contact technical support to get the issues fixed.
However, stock discrepancies affect negatively business if they're not adjusted timely. At best, the system should detect error orders and notify merchants at a defined time or whenever any errors happen. Then, merchants can correct errors actively basing on the suggestion from the system.
Magestore inventory movement report
To help merchants in relieving headaches of stock discrepancies, Magestore has released the stock movement report feature on the POS system as well as retail management software.
The report will save and display all information about the stock movement by item in a grid for easy tracking.
Let's see how it looks!
Inventory movement report in Magento backend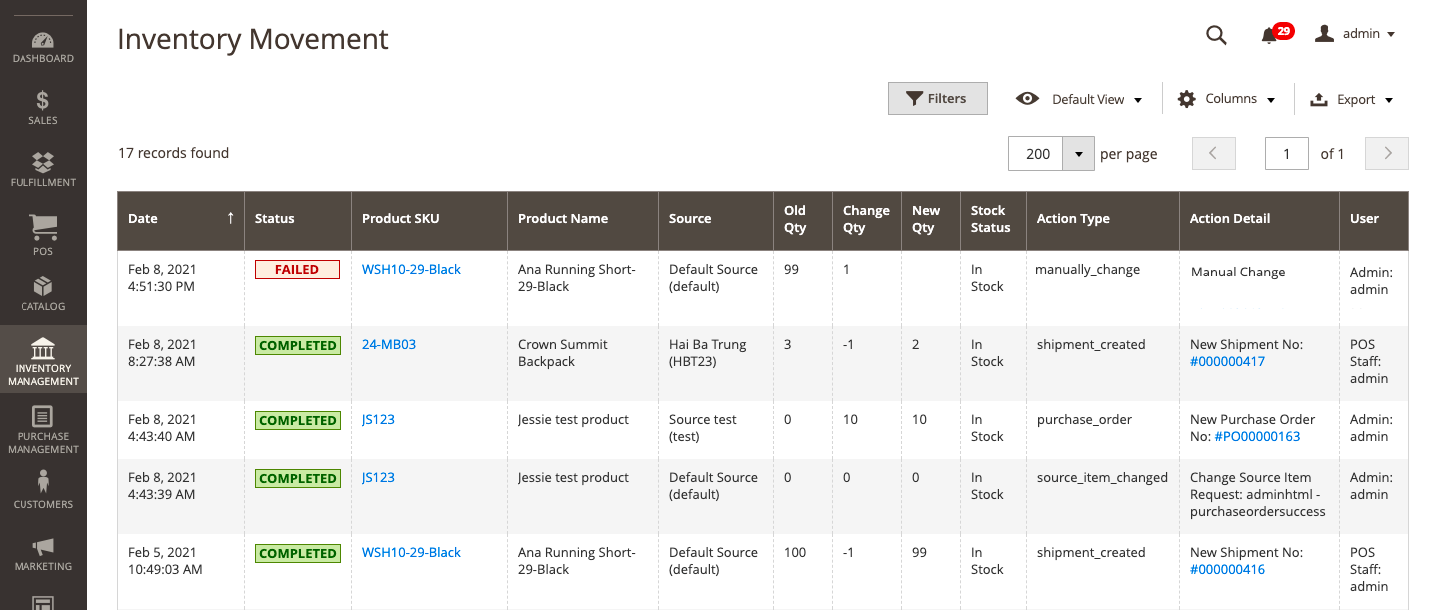 (Inventory movement report on Magestore POS system) 
Magestore inventory movement report includes the following information:
Date

: Day, month, year, and hour your business create changes of quantity

Status: It shows Completed if there is no error in the stock change update. In contrast, it shows Failed.
Product info

: Names and codes (such as SKUs) of items that increase or decrease in quantity

Action

: Activities or reason that results in the changes of quantity such as ship to customers or transfer between warehouses

Source: Location that has the changes of quantity
Old quantity: Quantity on hand before the changes
New quantity

: Quantity on hand after the changes

Change of quantity

: Quantity of stock moved into or out of the location. For example, if you ship 2 items to a customer, it means that the quantity decreases by 2. The report then will show -2. In contrast, if you receive 3 more items from the supplier, you can see +3 in this column. 

Action details

: The reference that results in stock changes. Admin can click the link to go to the reference such as a 

purchase order

, a sales order, an inventory adjustment, etc.

User: The person in charge of tasks that created the quantity change.
Besides viewing the report, you may want to export it in CSV or Excel for later reference or sending to others.
(Merchants can export inventory movement report CSV file on Magestore POS system) 
Last but not less, merchants can check the list of error orders in a centralized view and proceed to correct inventory data.
(Merchants can check the list of error orders on Magestore POS system) 
Inventory movement history on PWA
The inventory movement report is also available on our Retail Management PWA. With it, store managers can keep track of inventory transactions in their location.
Make your warehouse control easier with inventory movement
You may invest in a big website, POS system, or a huge inventory system with multiple warehouses and forecasting. However, it still lacks an overview of how each item moves in and out. 
The inventory movement report offers a place to detect issues and find the solution to solve them. 
If you're interested in implementing a movement report that gives you peace of mind, don't hesitate to contact us now
Magestore POS system for Adobe Magento
Optimize your business operations with our complete POS for Magento
Sync data between your online stores and physical outlets in real-time
Manage all inventory sources, orders, customers in one single system
Highly customizable, even with complicated business requirements