Self Checkout Systems in Retail
According to surveys, 60% of people hate to be in a long queue when checkout and they might love self-checkout systems. A self-checkout system is a better option as it let customers scan items and pay for their purchases without the help of store employees, thus preventing long checkout lines.
Besides, self-checkout kiosks can help retailers save costs while delivering a better customer experience. This is why self-checkout machines have started attracting tech giants like Amazon and Walmart recently.
This article explores the benefits and setup of self-checkout systems, the self-checkout process, and how to implement it in your retail store.
Why is self-checkout better?
According to the National Retail Federation's survey conducted in 2023, 62% of respondents expressed that self-checkout systems significantly improve their overall shopping experience.
In the study of Statista in 2022, 46.5% of US and UK convenience store and pharmacy retailers believed customers would switch to competitors if their stores don't offer scan-and-pay options.
Nowadays, with the continually evolving adoption of self checkout systems, many major retailers are using this system in their operations such as Walmart, Target, IKEA, Home Depot, Costco, Kroger, etc.
Here are 4 main reasons why more retailers in supermarkets, grocery, and convenience stores are adopting self checkout counters in their store chains.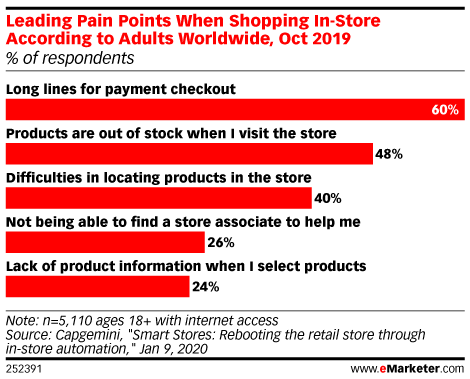 As your business grows, your stores get bigger and the checkout lines become longer. To handle this, you'll need to dedicate more space to checkout counters and assign more cashiers. If customers check out themselves, retailers can lower wait times and reduce the queue in checkout lanes.
A user-friendly self checkout POS is much faster than waiting for a cashier to look up the customer account and bag the items.
Better store capacity
Self checkout kiosks take up less space than regular checkout registers. This means you can place many kiosks into a smaller area while your checkout capacity remains the same. The reduction of queues further minimizes the space you need for processing order.
Small retailers can save real estate costs. On the other hand, massive retail chains have even more opportunities to showcase their premium products.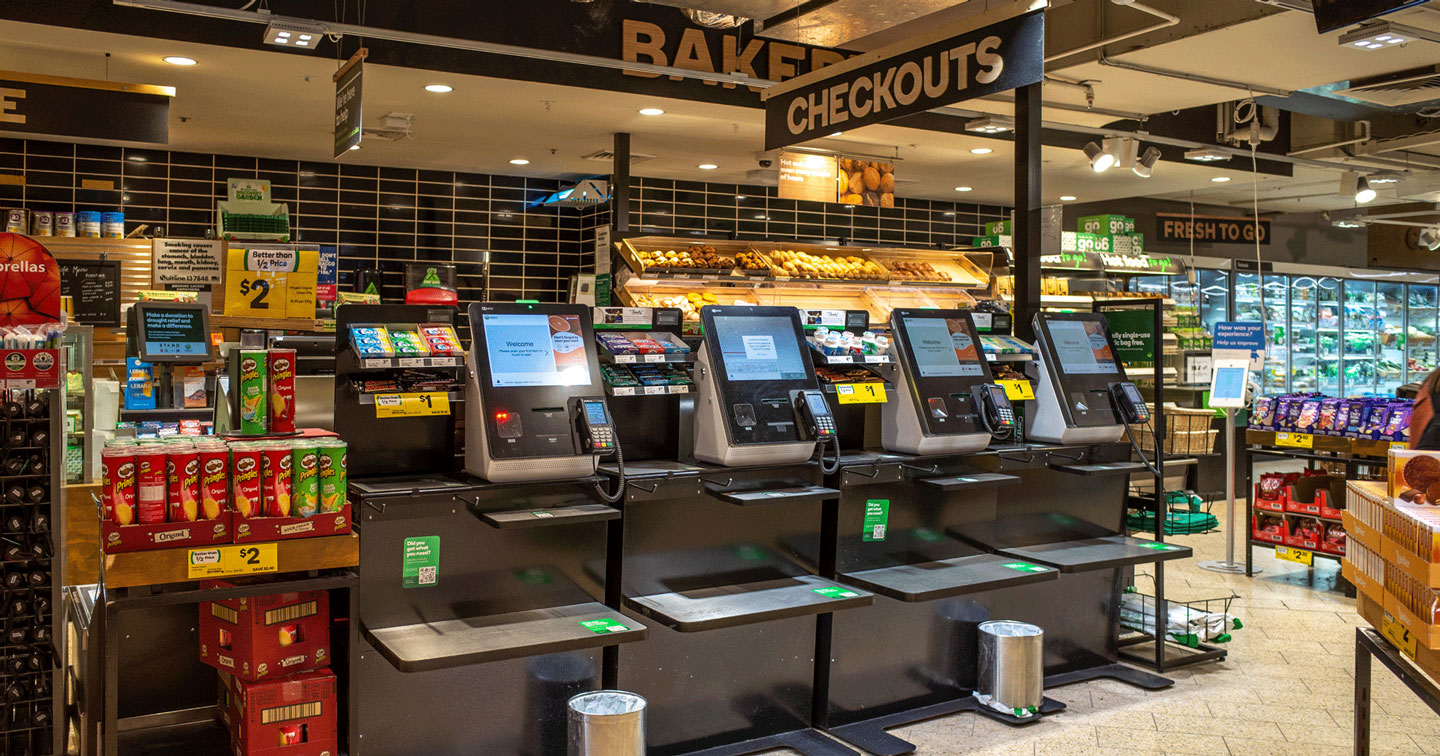 Improved customer experience
Self checkout POS gives your customers another way to complete their shopping experience with more control.
Customers who are in a hurry may prefer speedy checkout and minimal human interaction. The average time a self-checkout machine takes customers to check out is just under 4 minutes. With self service checkout, they can buy while listening to a podcast or relaxing from a busy day at work.
If your self service POS includes the option to switch language, this makes it easier for customers who speak a different language to check out. They can follow the instructions on the screen to scan items and pay instead of struggling to communicate with the cashier.
Increased staff productivity
With self checkout systems, one employee can watch multiple kiosks at the same time. As a result, retailers can cut back on the number of cashiers and save the cost during slow periods. You can keep up with customer demand while your staff can focus on creating an excellent shopping experience.
Self-checkout machines can help your staff save time to take on other activities instead of standing behind the cashier lane. They can restock shelves, reorganize merchandise, and consult the customers better. Now you have a well-organized store with excellent staff, a welcoming environment for the customers.
What are parts of a self checkout machine?
Customers choose self checkout for its convenience, so your self checkout system needs to help customers complete the transactions with minimal staff support.
A self checkout setup usually includes:
Self checkout software: Some POS systems can switch between cashier assisted and self service modes. Other POS software requires further customization. The self checkout POS should include essential checkout features and an option to request support from a store attendant.
Self checkout machine: Specialized self checkout kiosks with multi-touch capability
Barcode scanner: Build into the checkout unit or a connected handheld device, barcode scanner is the staple of self checkout systems. Customers can add items to cart instantly instead of searching and manually selecting from the product list.
Payment terminal: Self checkout stands usually include an integrated terminal to help customers pay by credit card and other contactless methods. Some kiosks also have a cash dispensing device to support cash payment.
Receipt printer: Compact receipt printers that fit with the kiosks. Customers can get the receipt right after they complete checkout.
Depending on your business, some retailers also include a bagging area in the self checkout kiosks.
How to implement self checkout system in retail stores
Consider your goals before implementing self checkout
It's tempting to roll out self checkout kiosks across your stores with their potentials to save costs and boost sales. However, self-checkout machines with its system may require a large upfront investment from retailers.
To truly see a high return on investment, your kiosks need to be intuitive and flexible to customer needs. Otherwise, your customers will just return to the regular checkout counters.
In addition, retailers should understand that self checkout systems are just one way to address the increasing demand for self service and more ways to shop with your brand.
When coming to your store, some customers want a speedy process while others desire human interactions. By offering both self checkout and regular checkout, your customers can decide on their preferred method. They will feel more in control and satisfied with their experience.
Implement self checkout systems by phase
Just like any new business processes, self checkout implementation should take a phased or "crawl, walk, run" approach.
You can begin with a pilot project and test self checkout technology in a subset of your stores. You can set up a checkout area with both regular and self checkout and start monitoring customer experience in this area.
For example, you can collect data to see which checkout options customers prefer based on various times of the day, days of the week, the number of items, or product categories. Now you have better insights to allocate your sales staff to each checkout area during the day.
In addition, you can check how customers use the checkout system. For example, your sales staff can provide you with the most common problems that customers run into when they use self checkout. They can also gather any feedback about the user interface. Based on the feedback, you can improve your checkout software or the layout of the kiosk.
Once you have the proof-of-concept success, you can begin to roll out self checkout systems to other locations. You'll need the IT capability and necessary training to deliver a consistent shopping experience across all locations.
Choosing a customizable self checkout solution gives you the flexibility to adapt your business to ever-changing customer demand.
How does a self-checkout work?
The self checkout process in a retail store usually includes 4 following steps:
Step 1
The customer interacts with the welcome screen to start checkout.
Step 2
They scan the products.
Step 3
They pay for their order.
Step 4
The customer completes checkout and gets a receipt.
Let's go into the details of each step.
Step 1: Start self checkout
Some systems let customers start checkout immediately by scanning a product.
Other self checkout POS might ask customers to log in with their membership details or continue as a guest. The customer can scan their card, search for their email, or input their membership details into the POS screen to start the checkout.
Step 2: Add products
The customer can scan the product barcode to add items to cart. If there are issues with the barcode, they can look up the product on the POS screen or get a store associate to help them.
During this step, if the self-checkout system includes a packing area, the customer will have to put the correct item into the bagging area before they can continue checkout.
Step 3: Select payment options
The customer chooses how they will pay for the purchase. If the customer selects credit card, they should proceed to use the integrated payment terminals.
In addition to cash and credit cards, some retailers also accept store credits or gift cards and other vouchers on their self checkout terminals.
Step 4: Complete the purchase
Once the order is complete, the POS kiosk will print a receipt for the customer. They can keep this receipt for security checks and future product returns.
The self service POS should sync the complete order across the rest of your retail system. Real-time sync ensures that you always have the correct sales, inventory, and customer information.
Your POS should return to the welcome screen after a complete purchase. It should also time out after a period of inactivity.
How to set up self checkout mode in Magento
Self checkout mode isn't a built-in feature of Magento. With Magestore solution, however, retailers can provide this experience for their customers for a faster checkout process. Here are the steps to configure this feature in Magestore Magento POS.
Create self checkout role
In Magento backend, go to POS> Manage Roles> Add Role, enter Self-Checkout Role in the Role Name, and click Save.
Set permissions for the role
Next, you'll need to define how customers can use this feature in your physical stores. Check all the permissions you want to allow customers to use in self checkout mode and uncheck those you don't allow them to.
For example, checking Add Discount means customers can use a discount code at the self checkout counter. Unchecking Refund or Hold Order means customers can't self checkout for a refund or an on-hold order by themselves, instead they'll need the store staff to help.
Log in to self checkout POS
Once the configuration is ready, customers can log into the self service POS by either scanning their member card with an RFID device or using their user account, and start proceeding with checkout for their orders.
Scan member card with an RFID device to log in
Enter user account to log in
1. Do shoppers prefer self-checkout?
Because of above-mentioned benefits of self-checkout, many shoppers, especially Gen Zers, prefer this self scan checkout model to the traditional checkout one. Shopper preferences for self-service option depend on some factors such as convenience, technological savviness, personal interaction, speed, and privacy. To cater to diverse preferences, retailers often provide a mix of self-checkout and cashier-assisted options.
2. How much does self checkout system cost?
The cost to typically setup a self checkout machine is estimated around $125,000. However, there are different types of self checkouts in the market now. Besides, there are the costs of integrating this machine with your available POS system, or other systems used to track orders, sales, and inventory across online website and physical stores.
For detailed pricing, you can consult Magestore experts to find the best fitting POS solution with self-checkout for your business.
3. Is self-checkout an AI?
Self-checkout systems, also referred to as assisted checkouts or service checkouts, utilize AI technology to analyze product images or barcodes. Thus it allows customers to scan items and pay for their purchases without requiring assistance from store staff.
Self checkout systems have a lot of benefits for retailers:
Shorter lines and faster checkout
Better store capacity
Improved customer experience
Increased staff productivity
Retailers should consider the goals and processes before implementing self checkout and roll out the technology in phases.
If you're looking for the best self checkout solution that's adaptable to your retail business, please talk to one of our business consultants. Together we can build a best-fit solution for your requirements.
Optimize your business operations with our complete POS for Magento
Sell online or in your physical stores seamlessly with real-time data synchronization.
Sell everywhere from one platform with desktop or iPad devices, even without internet connection.
All data stay safely on your Magento website, and your POS doesn't have to rely on third-party servers to work.
EXPLORE MAGESTORE POS