In-store product exchange in retail
During daily operations, retailers will undoubtedly encounter requests for returns, refunds, and exchanges. With a clear policy and proper system, product exchanges can be easy and convenient for both your customers and your staff.
Let's explore the 4 benefits of a clear product exchange process and 5 steps in an in-store product exchange.
4 benefits of product exchanges
Customers can ask for product replacement for many reasons. For example, the product arrived damaged, they ordered the wrong size, or the color didn't look good on them.
Many retailers also offer cross channel and cross store returns. Customers bought an item online can exchange it in a physical store. They can buy items in one store, then bring the products to exchange in another more convenient store.
With all the complications, it's necessary to have a streamlined product exchange process and workflow in place for a variety of reasons.
Use product exchanges as an alternative to refunds
Returns management is a complex and costly operation. If you process the return as a refund, not only will you lose money from the original order, you'll also lose more on restocking effort and customer acquisition.
Offering product exchange in this situation will lessen the impact. You'll keep the profit from the original order which helps offset the product cost. The customer's still engaged with your brand and is more willing to return if they are happy with the exchanged product.
Build customer loyalty
Sometimes an exchange happens because the customer chose the wrong item or the product was damaged during shipping. This doesn't necessarily mean the customer doesn't want to engage with your brand anymore.
A convenient return and exchange process will create a positive customer experience. If the customers are satisfied with your exchange policy, they are more likely to give your brand another chance, leading to higher retention rates and long-term revenue growth.
92% of consumers will buy something again if returns are easy. Good product exchange policy boosts repeat purchase rate and sets you apart from other retailers relying on one-time purchases.
Maintain brand reputation
Customers returned items when the products didn't meet their expectations. How you handle return and exchange requests helps define your overall reputation as a retailer. This is especially true for well-known brands where customers have come to expect both excellent product quality and outstanding customer service.
According to Nielson's Global Trust in Advertising Report, online reviews are the third most trusted sources. Two-thirds of consumers will make a decision based on the online reviews on your social media, under your Google searches, and on third-party review sites.
When you deliver a good customer experience through product exchange, you have a better chance of attracting positive reviews and word of mouth. This is free marketing for you to increase new and repeat purchases, helping your business thrive sustainably.
Turn exchanges into sales opportunities
In BigCommerce's 2018 report, 67% of online customers will browse or purchase another item when they return an item in-store. Therefore, any visits to your store can be an upsell or cross-sell opportunities, including product returns.
If the customer is exchanging an item in-store, your sales staff can show them the new collection or any products that complement what they're exchanging for.
5 steps to process an in-store product exchange
While product returns are an inevitable part of retail, you can reduce the time and cost of the exchange process by implementing a transparent process.
An in-store product exchange usually includes 5 steps.
Customer requests an exchange
The customer brings the items to your retail store and requests an exchange. They might have bought the items in the current store, from another store, or even online.
Staff verifies the exchange request
The exchange process starts when the customer presents the original receipt. If you have a POS system, you can also look up the original order by other methods such as customer name, email, or purchase date.
Your sales or customer service staff will need to check the conditions of the product and your exchange policy. Then they can refuse the customer's request or start exchanging.
Staff selects items to return
In the third step, your staff can select the returned items and quantity. They can log the reason why the customer returned each item into the retail POS system.
If the items are unused or in good condition, the staff can return the items to your inventory for later resell.
Staff chooses items to exchange
In this step, your customer will choose the items they want to exchange for. Your staff will record the products and quantity into a centralized POS system.
Based on your exchange policy, your staff might also add a restocking fee to cover any activities to make the product ready to be resold.
If the customer is exchanging the product because they want another size or color, there isn't a price difference. However, if they want to exchange one product with another, there might be a situation where the price of the new product is different from that of the original item.
If the new item is cheaper than the old item, your staff will need to refund the difference to the customer. Your staff can issue the refund amount to the customer via a credit card transaction or convert it into a gift card or store credits.
Gift cards or store credits are usually tied to a customer account. If the customer is exchanging a gift or hasn't created an account with your business before, they should be able to join your loyalty program easily.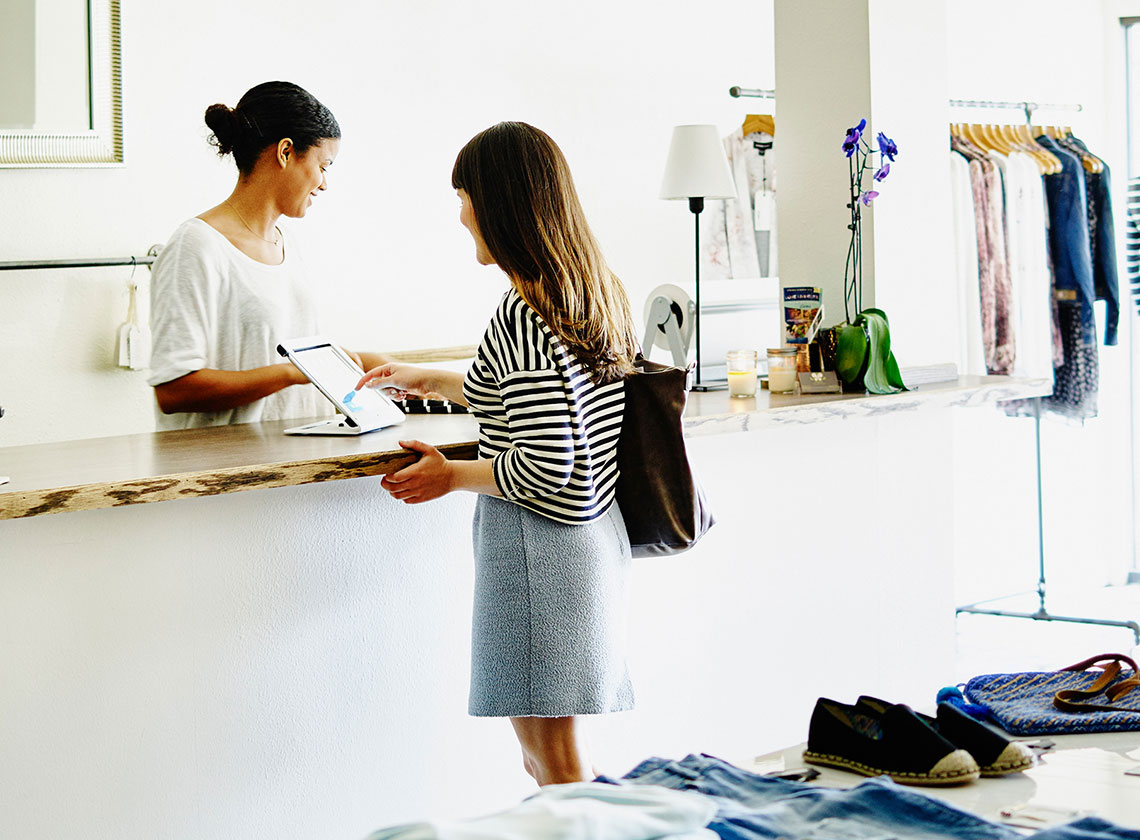 On the other hand, if the new item is more expensive than the old item, or if there are any extra fees for the exchange, the customer will pay for the price difference.
Staff processes payment and completes the exchange
Your staff should refund or take payment based on the order difference. Then they can complete the exchange and give the customer an exchange receipt.
Your POS should synchronize information from the product exchange into the rest of your ERP system to ensure complete data. This includes customer details, product and quantity, and payment transactions.
Product exchange solution for retailers
Product exchange is a normal part of retail operations. Retailers should treat exchanges as an opportunity to improve customer experience and increase future sales.
However, many retailers process product exchanges manually and on a case-by-case basis. This makes your customer experience inconsistent and also places a huge burden on your sales staff.
A clear product exchange policy helps your staff easily decide if an item is eligible for exchange or not. You can combine this with a POS system that supports quick exchange. It should help your staff find new items to exchange, return old items to stock, and process payment seamlessly. This means your staff can serve the customers much better and faster.
If you're looking for a POS solution to keep the exchange process simple, talk to a retail expert from Magestore to get a free consultation. Together we can build a tailor-made exchange solution for your retail business.
Magestore POS system for Adobe Magento
Optimize your business operations with our complete POS for Magento
Sync data between your online stores and physical outlets in real-time
Manage all inventory sources, orders, customers in one single system
Highly customizable, even with complicated business requirements