Magestore no longer provides this extension. Get a similar product from our trusted partner.
Buy at Partner Website
Loading...
This extension has been discontinued.
For Magestore target to provide the ultimate omnichannel solution for Magento retailers, we focus our efforts to Retailer Kit - a group of well-integrated extensions that empower your retailing business.
Rocket sales on your webstore

Ensure consistent sales activities across multiple channels

Streamline inventory management & order processing operations
Looking to scale up your online-to-offlilne business? Retailer Kit can be your correct solution. Explore more about Retailer Kit then share with us your desire, instantly receive expert's advice!
Community Edition: 2.0.x - 2.1.x
Enterprise Edition: 2.0.x - 2.1.x
Introduce you the FREE consultation service from our experts (4000+ customers used). Just leave your details:
Thank you !
Now click the links below to view demo
LIVE DEMO
(click links below)
Magestore no longer provides this extension. Get a similar product from our trusted partner.
Buy at Partner Website
Discover All power-up Features of Magento 2 Shop By Brand
4 new positions to showcase brands
Brand listing page
Brand detail pages
4 ways to sort/filter/search brands
by Featured brands
by Search box

by Product Category
by Alphabet order
*Tip: Want different Brand List on Menu? Contact us to integrate!
SEO-friendlier Brand Detail Pages
Show brand info & products

- Logo
- Banner
- Description

- All brand's products
- Brand's Featured products
- Brand's Bestseller products

Optimize SEO-related elements
Better Brand Management
View sales reports by brand (Hot)
Import new brands via CSV
Sync brands with Manufacturer attribute's values
Set different "featured brands" for multi-store
Custom Layout & Style
Change colors of brand display blocks & pages
Adjust display of

- Brand Listing page
- Brand Detail pages
- Featured Brands block

- Brand List on sidebar
- Brand List on Menu

Embed Featured Brands anywhere (Hot)

- CMS page
- Static blocks

- Template files
- Layout files

Flat design & responsive template
Further Development
100% open source (Hot)
1 license applied for 1 live site, unlimited development sites
why you need better magento 2 shop by brand
Have tons of products from different brands like Walmart? Then you need a better navigation & filter for sure! Because with default Shop by Manufacturer of Magento 2, your customers only can filter products by brand along with other attributes on sidebar. From the administrator aspect, it's quite tricky for you to get the hang of how these brands are performing to optimize supply chain.
Here comes your stress relief Shop by Brand extension specialized for Magento 2! It brings a totally new shopping experience to your customers with many positions to display brands & easier brand search.
How a better shop by brand filter works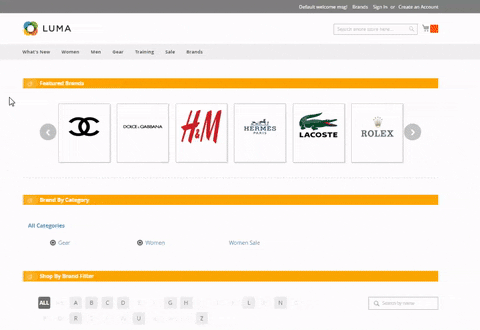 On the Brand Listing Page, Customers can view and search for brands. When clicking on a brand, Customers are navigated to the Brand Detailed Page with more information
How Magento 2 Shop By Brand works in details
Scroll down to see full features that Magento 2 Shop By Brand extension has (like Magento 1)
1. Display brand listing & quickly search for wanted brand
Don't know how to arrange your brand better? With Shop by Brand extension for Magento 2, all brands will be listed in alphabetical order on a single page. You can also choose to display your brands in a continuous list or group them by first character.
Not only can customers view all brands but they can also search for brands instantly. Just type brand name in the search box, then the most relevant results will be suggested in a drop-down list.
What's more? Find brands with the wanted products or categories quickly thanks to Brand by Category filter
2. Choose to display featured brands flexibly
Wanna get customers' attention for featured brands? Show them on branding listing page with a Featured Brands block which you can configure as sliding or static list. You can flexibly manage brands' sort order and push your strategic brands first to support your specific business goals.
Especially, the Featured Brands block can be placed anywhere on your website using a simple embedded code. Just choose the most suitable position to show your featured brands.
3. View a specific brand with details
Customers can find all necessary brand information such as brand name, logo, banner, description and product list on brand detail page.
Moreover, they can see all products and featured products of that brand in recommended order. For quickly search, just filter the product list by other options like price, color, etc. from the page sidebar.
Based on your business preference and customer behavior, you can put the sidebar on the right or the left, and arrange the sidebar blocks in your preferred order.
4. Evaluate brands' performance using statics
Magento 2 Shop By Brand provides you statistics about sold items of each brand, which helps you have insights and improve your business activities.
You're in Category: Magento 2 extensions > Magento Search
You should view Related products: Magento 2 Mega Menu Extension
Customization - Have it on your own way
Being opensource with well-written customization guide, you can easily modify extension. If you want to be faster & better, Magestore can give you a hand. We provide Customization Services for Shop by Brand Extension at reasonable fee.
Wonder frequent customize request for Shop by Brand?
Put multi-brands to one product and vice versa
Improving the interface of Shop By Brand extension
Read here for full request
Be unique & better than your rival >> Submit Your request here
Release Notes
Version 1.0 for Magento 2 (released on April 11th, 2016)
Release a stable version for Magento 2.0
View all versions
View less
Testimonials
It did not take me much time to realize that Magestore's Shop by Brand received good reviews for its useful features and reasonable price compared to others.

Steve

CEO handleshop.co.uk

Great Extension with fast track support team. Highly recommended!

Ashwini Raj Dinker

WEB DEVELOPER Markup Cloud Ltd

You guys developed a very great Magento extension!

Tora Toraman

CEO shopigo.com
Write a review - Get up to 15 points
You will get 3 points for a normal review. 15 points will be yours if you contact us & share how you use our solution in a case study on our website.
Be assured that your shared information will always be safe in our system. Thanks in advance!
write a review
Frank

Frank

Not only is the extension excellent and does exactly what it says, the support from the developers is second to none. They go out of their way to help with any problems and in our case helped with an integration problem that was way beyond the call of duty. I wish all Magento 2 extensions were Magestore extensions.

Great thgkiinn! That

Xaria

Great thgkiinn! That really breaks the mold!