How to use bin location to manage your warehouse
Bin location is the smallest unit of space inside a warehouse where merchants store their goods. Bin locations simplify the inventory management processes, ensuring merchants always know where to store and find their products.
Let's look at the benefits of bin location, how to set up your warehouse layout, and how to use bin location in essential warehouse operations.
Why inventory bins are a must-have for complex stock control operations
Inventory bins are essential for retailers who manage massive warehouses and a diverse list of items. An efficient storage tracking system will help merchants optimize important retail operations.
Know exactly where to store and find products
Without a warehouse location system, retailers usually store products in logical groups or categories. If you use the logical storage method, it will take longer for your staff to locate the warehouse aisle with the correct category, then scan the shelf to find the items.
Besides, there are uncommon items that don't necessarily fit in one category. Your warehouse workers will need to check multiple locations or ask for help to find the item. This is most time-consuming for new staff, who are not familiar with the layout of your warehouse.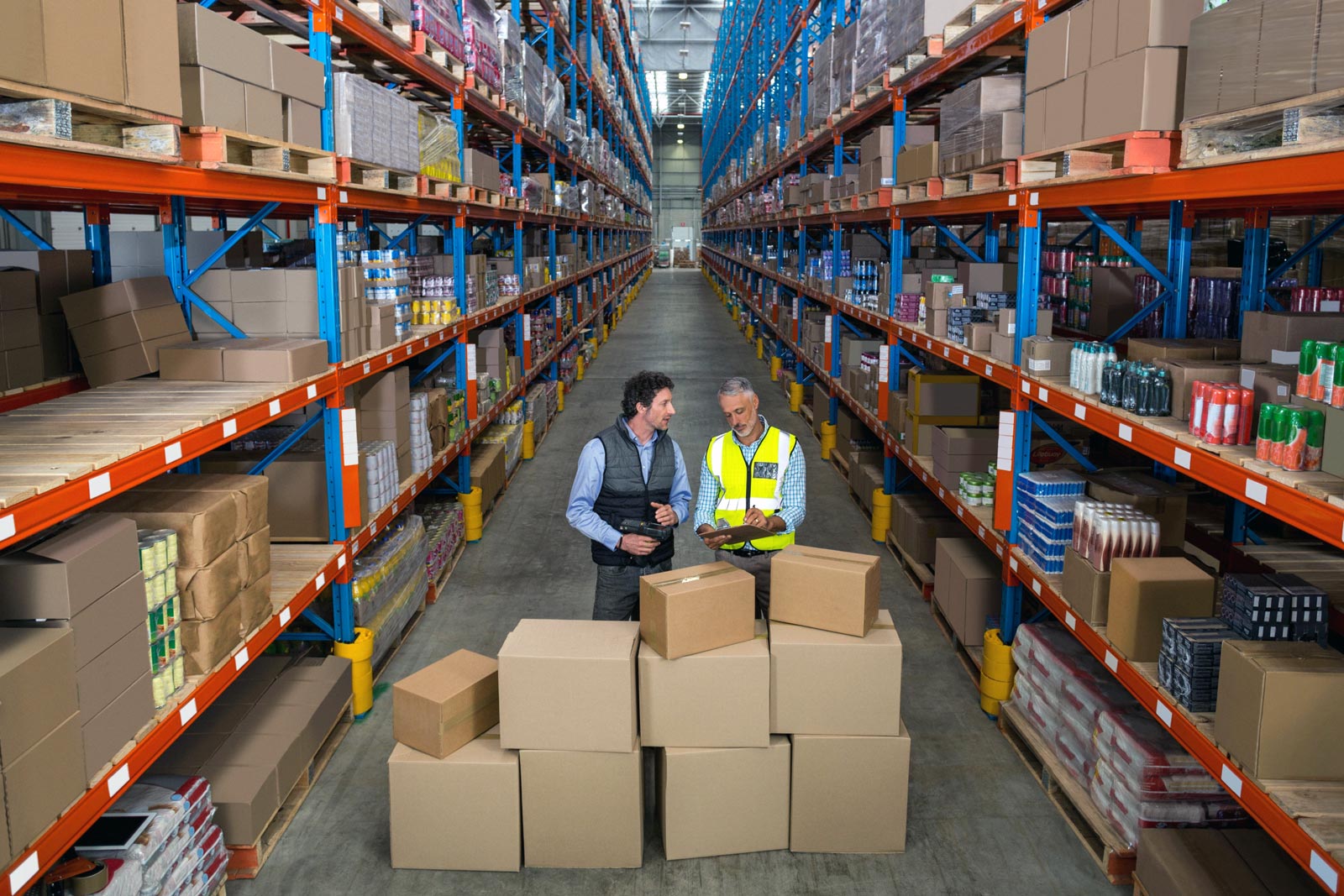 With bin location, when your staff needs to look for an item, they'll only have to look up the bin or aisle location inside your inventory system and follow the labels.
An efficient bin location system points out exactly where to stock a product, preventing misplaced or lost items. Your staff can save much time during warehouse operations such as:
Receiving products from suppliers
Transferring products between warehouses
Returning products to stock after a refund
All of this reduces handling costs and keeps your inventory data correct. Accurate stock information leads to fewer rejected orders and a better customer experience.
Pick accurate items faster
Bin location minimizes errors during the product picking process. Your items are stored in particular locations that are recorded in your stock control system. When picking items, your staff only needs to pull up the warehouse bin from your system and head there.
Merchants can reduce the chances of errors such as selecting the wrong items or product variations, ensuring customer satisfaction with your brand.
Bin location also helps staff identify the most efficient pick path. When your staff print out the picking list, they can see all aisle locations they need to pass by. Then they can organize the list by warehouse areas to create the optimal picking route throughout your warehouse.
Combined with hand-held devices such as barcode scanners, bin location can streamline order processing. You can ship items faster and keep your customers happy with your service.
Maximize warehouse space
Without warehouse locations, retailers generally stock related products together. However, these products can have different physical sizes or sales volumes, which might lead to overflowing shelves in one location and empty spaces in others.
Proper warehouse bin and rack helps retailers stock more products efficiently. Besides related items, you can organize your warehouse based on fast-moving products and the required depths of the warehouse shelf.
For example, you can store the best selling products in one area with deeper shelves. In this way, you always have enough space for ordering large numbers from suppliers. Since popular and related products are in the same area, your staff can reduce the walking time inside your warehouse and pick items faster. Similarly, you can stash slow-selling products in another zone with smaller shelving.
To enjoy all the benefits of bin locations with minimal expense, retailers must set up an organized storage shelves system. Let's have a look at a sample warehouse location system.
What an inventory location system looks like
To get started, retailers should segment your warehouse and assign location names. These segments will be the basis for your stock controlling system.
Each retailer can set up a different warehouse layout. However, a typical warehouse location format includes 5 levels.
Zone: A section or area within a warehouse that's separated from one another based on attributes such as package types, sales velocity, or warehouse activities
Aisle: Parallel rows of products. The space between these rows will depend on many factors like the type of products you sell, their sizes, or the equipment needed to pick these items.
Rack or Bay: A row of shelves stacked on top of each other where you store your products
Shelf or Level: The layer of your racking system. Having multiple shelves on an inventory rack increases the number of products you can store in your warehouse.
Bin: The smallest unit of space where your items are stored
Your warehouse location numbering will reflect all levels of your warehouse, starting from the largest to the smallest levels.
For example, if you set up the 5 inventory levels, your bin location will be Zone-Aisle-Rack-Shelf-Bin. Location 1-B-03-04-05 means your item is at Zone 1, Aisle B, Rack 03, Shelf 04, and Bin 05.
These item "coordinates" are unique to make sure your warehouse staff can always find and pick the correct items.
Next, let's investigate how retailers can use bin location during warehouse operations.
Use bin location during the inventory management process
Retailers often utilize bin locations during 3 key business processes:
Here's how you can allocate your products to bin locations throughout your retail operations.
Assign inventory bins when receiving the purchase order
When your warehouse staff receives goods from the suppliers, they will record where they store the new products. Your inventory management system should let your workers log the bin locations of products and the received quantity. In case there isn't enough space to store all items, your staff should be able to split the numbers across multiple bin locations.
Update bin location during inventory transfer
Some retailers send goods from suppliers directly to their fulfillment warehouses or physical stores. Others might receive items in a central warehouse or receiving zone before moving the products to another location. There are also cases where you transfer the products from one inventory bin to another bin within the same warehouse.
When your staff transfers products from a warehouse location to another, they should be able to record the changes in bin locations too. Your inventory system should track:
Transfer quantity
Sending and receiving warehouse
Sending and receiving bin locations
Use bin locations to pick items to fulfill orders
To fulfill items for sales orders, warehouse managers can create pick lists for the warehouse staff.
A warehouse pick list includes the list of products, the requested quantity, and the bin locations of each product.
If a product is in 2 or more bins, your system should display all those locations in different rows and the available quantity. You and your staff can then decide how many items you want from each bin.
Your staff can use this list to pick items from your warehouse. They can use a barcode scanner to update the quantity into your inventory system quickly.
When they complete the picking process, the system should deduct the items from bin locations to keep your inventory data accurate.
Manage bin location in Magento
While bin location isn't a ready-made feature of Magento, retailers can use Magestore's retail management solution to fully track the item storage.
1. List bin location name
Bin Identification
Bin Location: Should be combined Aisle-Rack-Shelf-Bin
Barcode: Use to scan to recognize Bin location
Setup Bin Position
Using Purpose
Available for Selling: This Bin Location will be available for selling. Quantity in the Bin location will be calculated in stock available for sales (on both website and POS). The Bin Location being available for selling can be selected to fulfill order.
Available for Replenish: Bin location being available for Replenish will be used for transferring qty between stores.
Available for Storage: Bin location being available for Storage will be not available for selling and replenishment.
Capacity and Efficiency
Capacity (pallet)
Pick Efficiency
3. Print bin label
Select a bin location then click Print Bin Label to print the barcode label for the selected bin location.
4. Bulk Generate
You can use this function to generate a bulk of bin locations.
Users need to input the following data:
Starting Bin,
Ending Bin,
Aisle,
Rack,
Shelf.
Click Generate button for the system to automatically generate the bulk of bin locations based on data input.
For example, the system will auto create 10 bin locations from data above: A-01-02-01, A-01-02-02, …, A-01-02-10.
Bin locations is a long-term investment that boosts efficiency in inventory and logistics operations. Bin location tracking system ensures you always know where your products are and keeps your customers satisfied with fast delivery.
To maximize the payoffs of inventory bins and racks, retailers should set up a centralized warehouse management system. It saves them cost and effort from purchasing, maintaining, training, and reconciling multiple systems.
If you're a Magento merchant looking to optimize your complex inventory operations, you can book a free consultation with our retail experts. Together we can build a tailor-made warehouse solution for your business.
Magestore POS system for Adobe Magento
Optimize your business operations with our complete POS for Magento
Sync data between your online stores and physical outlets in real-time
Manage all inventory sources, orders, customers in one single system
Highly customizable, even with complicated business requirements