All of us are so curious about Magento 2.0, When will it release? What are new features?… many questions about Magento 2.0 that we find every day in our inbox, forum and blog comments… So in this post, you will clear your mind about it.
What is Magento 2.0?
If you already know about Magento 1.x ( Magento at version 1.1 to 1.9) and will find that  Magento 2.0 is the breakthrough from Magento 1.x,  with too many thing be improved and upgrade. When Magento decide to release the official version, many web development experts  call this Magento 2.0 is the leading digital platform for E-commerce.  Was built on open-source technology, Magento 2 is easy to customize without bugs occur,  faster 20%, powerful and visual of controlling with new admin sidebar.  It's not surprise that Magento is the most popular platform for E-commerce from Magento 1.x, but with Magento 2, I have a strong believe in the growing of it. Why? If you research about Magento 2 you will see that Magento 2 is a perfect solution for E-commerce, everything from small to big are already optimized to have the best performance on online web store:
Fully integrated with Marketing tool such as Email, Live chat, SEO, promotion campaign …
Visual report about sale performance as well as inventory
Content management
Customers management
……
Above is Magento 2 demo of Magestore, you can login to see the front-end as well as back-end with this link: Magento 2 demo Magestore
With Magento 2, every store owners can run a online website in a professional way with all basic requirement for an E-commerce and if you want to make your website works more effective you can check Magestore Magento 2 products which will help your store has a faster checkout in 1 step, a responsive mega menu, A-Z inventory solution…
With the basic configuration of Magento 2 and Magestore Magento extension support, you will have a perfect solution for your online business with Stylish, Stable, Secure and easy to Customize, and the crazy development of your business will pleasure you in every situation.
Improvements in Magento 2 in comparison with Magento 1.x?
In comparison with Magento 1.x, Magento 2.0 has a lot of advantages that push the performance of your store 20% faster.
Visual admin control panel
Smarter file structure
Cheaper to upgrade
20% faster performance
Advance flexibility and Customization
Auto testing, clearer code quality
More security
Use Jquery instead of Prototype
Take away
With many up-to-date technologies, Magento 2.0 is the most powerful, good performance, secure, customize … It's the final solution for everyone who has online stores, deserve to  become the most popular solution for online businesses.
Start with Installing Magento 2 Extensions Now!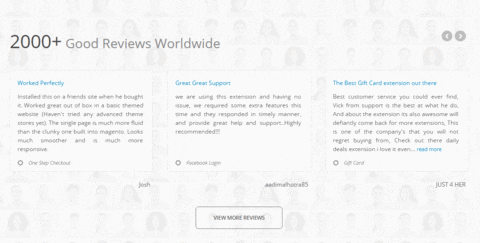 Your Magento website needs a powerful Magento ERP for stock control.
DON'T MISS THE CHANCE!