No. 1
extensions in the market
Most reliable
and dedicated support
Most reasonable
and flexible price
No. 1 extensions in the market
Affiliate+ and Reward points, which are exclusively built based on plugin structure, are top rated in the market for exclusive functions.
Our extensions are the strongest due to frequent update with new features added: Gift card, One step checkout & so on.
Most reliable and dedicated support
We are Magento's Partner and have got 5 Certified Magento Developers. You will not only be assured that your site is in expert's hand, you can enjoy our support forever without any added fee!
Best support service is the reason why 20k+ customers worldwide chose Magestore.
Most reasonable and flexible price
All extensions are onetime purchase only, n
o subscription payment.
You don't have to pay extra money for support and updates and with core-plugin extensions, you can just pay for preferred features.
we are using this extension and having no issue, we required some extra features this time and they responded in timely manner, and provide great help and support..Highly recommended!!!

Installed this on a friends site when he bought it. Worked great out of box in a basic themed website (Haven't tried any advanced theme stores yet). The single page is much more fluid than the clunky one built into magento. Looks much smoother...

I have installed this module on my store, and sent out an informational out to all the companies I retail for. They have set their reps up on the affiliate program and selling their own product through my store. Getting more eyes on my store...

We installed the Reward Points in one of our stores, which both customers and ourselves were very pleased with. The extension works well and is easy to manage. We had, however, some minor problems due to conflicts with other installed extensions,...

Using affiliate plus custom with some plugins, perfect module with great support. thanks.
Promotions
when you buy 2
or more products
Get $100 to purchase any extensions!
Hey guys,
To bring more exciting atmosphere to your autumn, Magestore has released a very interesting contest. Join us now and you will have a chance to get a grand prize!
Time to join
From September 10th to September 15th, 2013 (GMT -7)
Prize: 100 reward points (~$100)
These points can be redeemed for $100 to check out at Magestore.
Not winner? Don't be sad because you still get 5 reward points for checkout at Magestore
Please note that points can only be used as virtual currency to purchase Magento extensions on Magestore. They cannot be redeemed for credits to withdraw.
How to join
Easily, just answer 4 questions below and leave your answers in only 1 comment.
1. How many Magento extensions does Magestore provide at present? (both paid and free extensions)
A. 28 B. 39 C. 45
2. What is this Magento extension?
A. Gift Card B. Gift Wrap C. Promotional Gift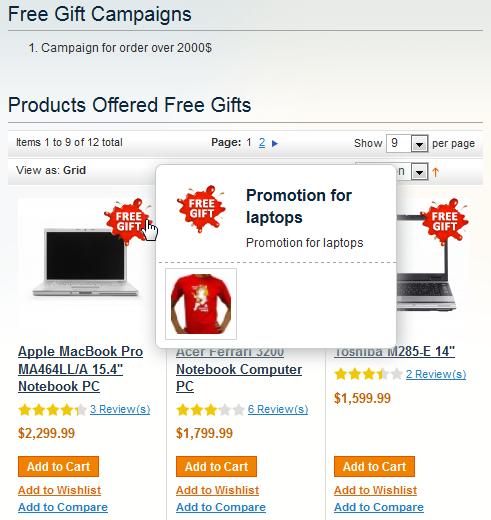 3. The latest version of One Step Checkout extension is…
A. 2.0.2 B. 2.2.0 C. 1.0.2
4. Please leave any Two-Digit Number you like
……………
Define the winner
The last 2 digits of the midday winning number of Win 4 of New York Lottery (http://nylottery.ny.gov/) on September 16, 2013 will be used as a base number to find out the winner of our contest.

In the example above, the base number is "12".
The Prize is awarded to the winner who answers correctly questions (1), (2), (3) and has the number in question (4) exactly the same as the base number, or having the smallest absolute difference value from the base number.
If there are 2 numbers, both having the smallest absolute difference value from the base number, the smaller number will be the winning number.
If there are 2 or more participants who answer correctly questions (1), (2), (3) and give the same winning number for question 4, the participant who leaves comment first will be the winner.
Result announcement
The name of winner will be announced officially in our blog post and by email on September 17th, 2013. We will add points to winner account and other participants' account right on September 17th, 2013 (GMT -7).
Good luck!
Posted September 9, 2013
6 people vote this .
Category / Sub Category
Related